Housing secretary repeats pledge to stop developers trading as deadline passes
Michael Gove has threatened to put the 11 housebuilders who missed yesterday's deadline for signing a building safety contract out of the "housebuilding business entirely" unless they sign up.
The housing secretary read out a list of 11 developers (see below) in the House of Commons this afternoon who were asked to sign the contract, which gives legal force to a pledge to remediate their own blocks over 11m going back 30 years, but have not yet done so.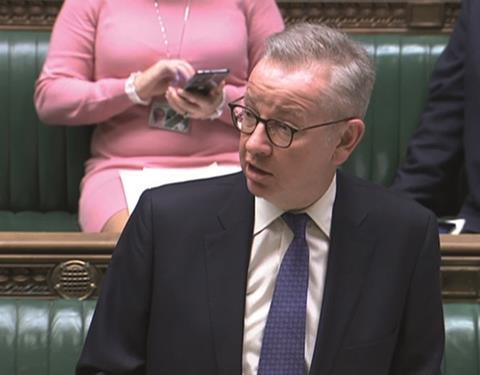 Gove previously gave a group of housebuilders a six-week deadline to sign the contract or face a ban on developing even for schemes with planning permission. Gove revealed a list of 39 housebuilders who have signed the pledge.
But Gove told MPs this afternoon: "While the overwhelming majority of major developers have signed, some regrettably have not and this house has made it clear what this means and so have I.
"Those companies will be out of the housebuilding business in England entirely unless they change their course," he said.
Developers who were asked to sign contract but have yet to do so
1. Abbey Developments
2. Avant
3. Ballymore*
4. Dandara
5. Emerson Group (Jones Homes)
6. Galliard Homes
7. Inland Homes
8. Lendlease
9. London Square
10. Rydon Homes
11. Telford Homes
Source: DLUHC
*Housing Today understands Ballymore is finalising details and expects to sign the contract soon
He said that those who were invited to sign but haven't done so will not be eligible to join the responsible actors scheme, which the government is setting up under new powers under the Building Safety Act.
Gove said: "They will not be able to commence new developments in England or receive building control approval for work that is already underway."
The housing secretary said, however, that his officials remain in discussion with several of the 11 "who are making progress towards signing".
He also repeated his threat to write to housebuilders' investors and to local authorities and building inspectors "to explain that these developers' projects may not be started or signed off". He also pledged to notify public bodies to re-open tenders and to potential homebuyers in order "to set out the risks involved in purchasing homes from companies that have chosen to ignore the prohibitions".
Gove said the 39 housebuilders who have signed will remediate 1,100 buildings and spend more than £2bn, which is "money saved for the taxpayer." He added: "I remain grateful to those developers who have been so keen to live up to their obligations."
He also said the government will do more to pursue construction product manufacturers "who also bear a heavy responsibility" for unsafe buildings, adding he will say more on this in the coming weeks.
Developers who have signed the contract:
1. Allison Homes Group
2. Barratt Developments
3. Bellway
4. Berkeley Group
5. Bewley Group
6. Bloor Investments
7. British Land
8. Cala Group
9. Canary Wharf Group
10. C.G. Fry and Son
11. Churchill Retirement
12. Crest Nicholson
13. Croudace Homes
14. Fairview Holdings
15. Frasers Property
16. MJ Gleeson
17. Grosvenor Group
18. Hill Holdings
19. Hopkins Home Group
20. Jelson Holdings
21. Keepmoat
22. Land Securities Group
23. Lifestory Holdings
24. McCarthy & Stone
25. Miller Homes
26. Morgan Sindall
27. Morris Homes
28. Persimmon
29. Redrow
30. Rowland Group
31. Sorbon Group
32. St Modwen Group
33. Story Homes
34. Strata Homes
35. Taylor Wimpey
36. Tilia Homes
37. Vistry Group
38. Weston Group
39. William Davis Homes
Source: DLUHC