Development to provide 433 flats on former police HQ
Build to rent developer Moda has secured funding to build out a 433-apartment scheme in the heart of Glasgow.
The Holland Park scheme, which is being built on the site of the former Strathclyde Police HQ on Pitt Street in the city, is being funded by a consortium of Apache Capital Partners and investment management firm Harrison Street.
Moda said that demolition was completed in March last year, with completion of the scheme due by the end of 2023.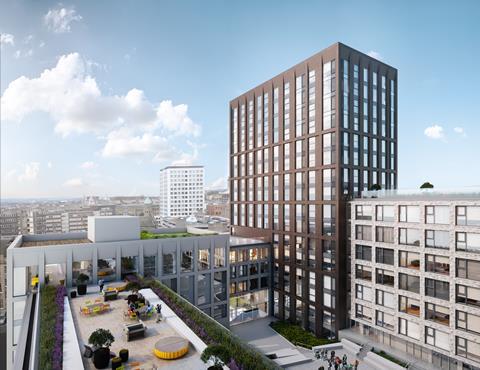 The scheme marks the fifth Moda project funded by the build to rent joint venture between Apache and Harrison Street, with schemes in Liverpool, Birmingham, Leeds and Edinburgh accounting for more than 2,300 homes.
The project includes 15,000 sq ft of communal lounges and other internal amenity space, alongside 31,000 sq ft of outdoor courtyards open to the public.
John Dunkerley, CEO and co-founder of Apache Capital Partners said the covid-19 pandemic had "further demonstrated the resilience of BTR [build to rent] as an asset class, while we continue to outperform expectations at Angel Gardens in Manchester, our flagship UK BTR development with Moda Living.
Johnny Caddick, CEO at Moda Living, said: "Significant institutional investors are more attracted than ever to the BTR sector, driven by the granular income which has proven its resilient qualities during these uncertain times."