Stephen Greenhalgh said the industry needed to "raise its game"
The government minister responsible for building safety has called for the widespread used of modular construction to fix the housing industry's fire safety problems.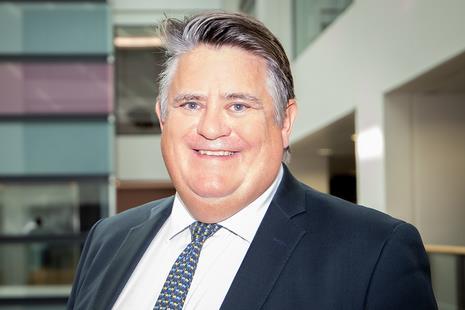 Stephen Greenhalgh (pictured) , who also holds the role of fire minister at the home office, said the approach was needed to end the "despicable practices" exposed in the inquiry into the 2017 Grenfell fire.
Speaking during a panel discussion on the future of housing at the Conservative party conference last week, Greenhalgh said: "My [plea] as a building safety minister so I can put myself out of a job and I can retire from public life is that the construction industry needs to raise its game. Why can't we think about a process by which we build buildings and make it easier to do that.
"So let's pioneer design for manufacture and assembly so that it's like putting a mechano kit together and you know that all the parts that you use are safe as opposed to trying to make it up as though we've never built a building before."
He said: "We need a fundamental professionalisation of building control and being able to have a much greater knowledge about design and construction to sign things off as safe. We've seen construction cutting corners and despicable practices through the Grenfell inquiry and the drive for profit over safety."
But Nicholas Boys Smith, Create Streets founder and the newly appointed leader of the government's new housing design quango, told the panel that modular was "struggling to take off" because of the dominance of major housebuilders in the housing industry.
Blaming the situation on the nature of the UK's planning system, he said: "All the money you spend if you own land or wish to develop something before you get planning permission can literally go up in smoke if you don't get it. That makes it much harder to finance innovation, makes it much harder to finance market entrance and it means that whenever you have a crisis, small firms go bust.
"And the consequence is - we have, by any measure, the most concentrated market in the western world."
He added: "There is a reason why modular housing has been struggling to take off in this country. That's because a new technique is a high risk thing to do, particularly a factory based technique where you need to invest a lot upfront.
"That's why we have problems, because we have an overly concentrated market where the big boys are not competed with enough. That's not to criticise the big boys, they just need more competition."
Figures from the government Insolvency Service in June showed that the number of housebuilders applying for insolvency increased by nearly 80% between 2016 and 2019, with the overwhelming majority of these firms being SMEs.
The data indicates the pressure smaller housebuilders were under even prior to the covid-19 lockdown.
SME builders currently provide around 10% of new homes according to the National House-Building Council, compared to 40% in 1988.
Meanwhile many of the UK's listed housebuilders have posted record profits in recent years, with Persimmon seeing its pre-tax profit treble between 2013 and 2019.