Responsible Actors Scheme information issued
The Department for Levelling Up, Housing and Communities (DLUHC) has published guidance setting out how its controversial 'responsible actors' scheme will work in practice.
Under the plan, developers are prevented from carrying out major planning permissions or receiving building control approvals if they decline an invitation to sign up to the scheme, under which they agree to fix 'life-critical' fire safety defects on their own blocks going back 30 years.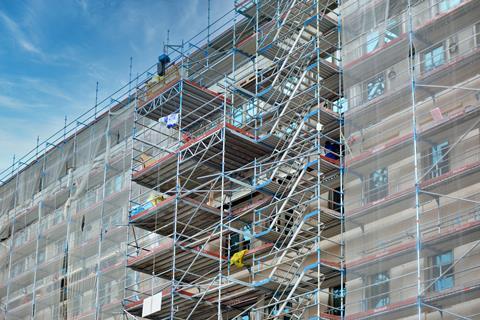 Housebuilders who do not sign up to the scheme, or who get removed from the scheme for failing in their obligations will be placed on a 'prohibited developer list'. There are currently no developers on the list.
In fresh guidance, DLUHC said it expects local planning authorities to use this list to check whether a developer is prohibited.
The prohibitions only apply to schemes where full planning permission is granted after 4 July and only to major developments, defined as having 10 homes or more, or being at least 0.5 hectares or 1,000 square metres floor space in size.
>>See also: What Gove's Responsible Actors scheme is likely to mean for building safety
The secretary of state can also exempt critical national infrastructure projects from the prohibitions.
If a developer carries out development prohibited under the Responsible Actors Scheme, this will constitute a breach of planning control, and local authorities will have modified enforcement powers to issue enforcement, stop or temporary stop notices.
Local planning authorities are also able to serve a planning contravention notice, if they suspect there is a breach of planning control under the RAS Regulations, to gain further information from a developer which may help determine whether enforcement action should be taken.
The Responsible Actors Scheme attracted controversy when it was first announced in Feburary 2022, with some commentators calling it 'draconian'. However 41 housebuilders have now signed up.