Analysis of audited accounts show impact of pandemic on housing association housebuilding
Investment in new homes by housing associations fell by a fifth in the covid-hit year to March, according to a summary of their financial statements by the social housing regulator.
The regulator said that private registered providers built 40,000 homes in the 2020-21 financial year, down 9,000 from the previous twelve months.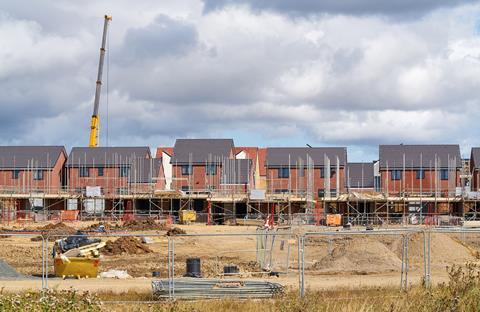 The Regulator of Social Housing's (RSH) annual global accounts summary said that the closure of most construction sites during the 2020 spring lockdown, alongside other subsequent restrictions, resulted in delays to capital investment programmes. It said this disruption led to "lower levels of investment in both new supply and existing stock in 2021."
It said the value of investment in new build dropped 20%, to £10.9bn. This was made up of £7.9bn of investment in new social housing, compared to £10.2bn in 2019-20, £2.7bn of investment in shared ownership and £0.3bn of investment in other forms of rented housing.
>> See also: Housing association accounts 2020/21 coverage all in one place
>> See also: Exclusive: housing association CEO earnings rise below inflation at 0.8%
The news comes after a raft of housing associations have reported falls in development output in the last year given the need to shut sites in the early part of 2020.
L&Q said in its accounts that its investment in new build had dropped by 43%, while another large developer, Bromford, said its investment in new build fell 26%.
However, the regulator also reported that the value of commitments for future capital investment made by associations had actually increased by 5% to £38.7bn, an increase the government put down to planned increases in investment in energy efficiency and building safety as well as catch-up spend on major repairs
Fiona MacGregor, chief executive of the RSH, said the figures showed overall that housing associations had responded well to the pandemic, with the sector's consolidated underlying surplus falling only slightly from £2.7bn to £2.6bn.
She also urged registered providers to stick to their core services and avoid big financial risks. "The continuing uncertainty of the pandemic coupled with wider macroeconomic and operational challenges mean providers must maintain their focus on delivering their core purpose and communicating effectively with stakeholders," she said. "It is vitally important that boards and executives manage risks effectively to ensure their continued financial viability and so protect tenants' homes."