Cities which book-end government's Arc scheme could suffer if housing supply not increased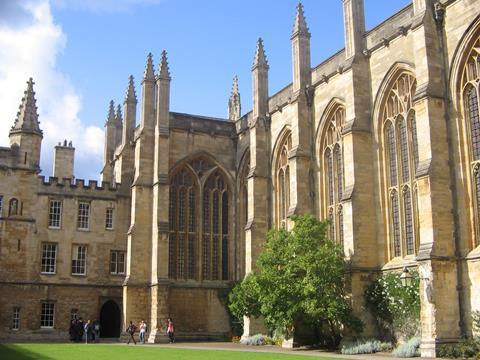 The government has been warned that sharply rising house prices in Oxford and Cambridge could end up stifling the very growth that ministers hope will attract businesses in a post-Brexit UK economy.
The two university cities, which are set to book-end the government's controversial Arc scheme, saw house prices rise by 67% and 73% respectively in the decade up to last year.
That figure compares with the national average increase over the same 10-year period of 40%, according to consultant Bidwells.
A survey by the firm found that residential property markets in top university cities around the world were on average 25% higher than the national average for the countries concerned.
Bidwells said housing supply in Oxford and Cambridge was "particularly constrained" and prices looked set to rise, despite concerns elsewhere about the impact of Brexit. Higher prices may price out graduates from staying put once they left colleges in the two cities, "despite burgeoning science and technology sectors currently spinning out billions of pounds of artificial intelligence start-ups in the area", the firm added.
The government plans to carve a swathe of development in an arc stretching from Oxford to Cambridge, through Milton Keynes and Bedford, building – it hopes – more than a million homes along the route.
The scheme has proved highly contentious already, with campaign groups calling the likely impact of the arc on the environment along the route "devastating", although the government, local authorities and local enterprise partnerships along the Arc have said they "highly valued" the natural environment and were seeking to "meet economic and housing ambitions while overall improving, rather than degrading, the [adjacent] environment".
Speaking about his firm's survey, senior Bidwells partner Patrick McMahon said: "The downside of a booming global city is that house prices in many of those hubs are becoming so high that there is risk of curtailing growth or even a decline in the quality of life, especially in smaller markets with very limited supply.
"This research shows what might happen to Oxford and Cambridge if we don't start taking infrastructure and housing provision seriously.
"Oxford and Cambridge are small cities who find themselves on the global stage off the back of their world-class universities and we do not want unaffordable housing to stifle further economic growth, or to put off the next wave of global businesses locating in these cities because they cannot attract long-term workers.
"We need to start planning now," McMahon added.