Major contractors and energy companies echo Housing Forum and National Housing Federation in saying releasing funding would "give greater confidence" to decarbonisation industry
The National Home Decarbonisation Group (NHDG) has called on the government to release the full £3.8bn Social Housing Decarbonisation Fund (SHDF) in next week's Autumn Statement.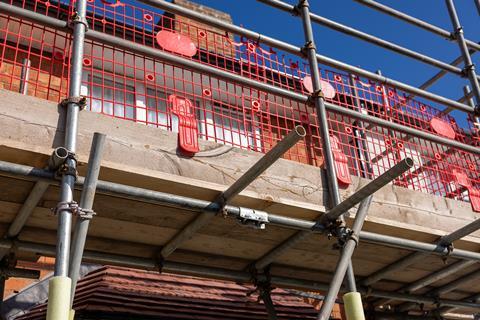 The NHDG, which consists of several major contractors and energy companies, has urged the government to release all the funding for the scheme in one go, rather than continue to allocate it gradually through successive 'waves;.
It argues opening up the funding in full would create greater confidence and certainty in the retrofit supply chain.
The NHDG is made up of retrofit contractors, and energy and construction companies, including Mace, Mears, Morgan Sindall, Breyer Group, VINCI, British Gas, Ovo Energy solutions and E.ON.
The call echoes that made by housing sector bodies, including the Housing Forum and the National Housing Federation.
The government has granted funding for retrofit through SHDF in waves. During wave 1, in 2021 it granted £179 million to upgrade around 20,000 social homes below the Energy Performance Certificate (EPC) band C up to that standard.
In Wave 2.1 of the SHDF, £778 million was awarded to 107 retrofit projects.
The current wave of funding, wave 2.2, will allocate up to £80 million of grant funding from April 2024.
Applications for wave 2.2 of the funding are expected to open next week.
Ben Williams, head of zero carbon retrofit at Wates Group, said that Wates has used previous SHDF funding rounds to deliver energy efficiency upgrades to over 5,000 homes.
Williams added: "SHDF Wave 3 is critical for us [Wates] to continue to build on the great progress we have made to date and enable the acceleration of decarbonising the social housing stock."
See also >> Could stamp duty reform be the answer to making UK homes net zero?
See also >> HAs and councils share £1.4bn housing retrofit funding
Chris Lovatt, chief operating officer at E.ON UK Solutions, said: "The UK's social housing stock is in desperate need of improvement to make homes more energy efficient, to eliminate damp and mould and to help lift the most vulnerable people out of fuel poverty. Renewing the Social Housing Decarbonisation Fund would give greater confidence to the industry and allow us to improve more homes and help ever more customers."
Garry McInerney, regional director at VINCI, said: "The timely launch of the next wave of SHDF funding will enable us to continue to invest in green skills and work with social housing providers to deliver decarbonisation in line with the government's net zero targets."
The NHDG is part of membership organisation, the National Insulation Association (NIA) and was formed in June 2023 to "drive quality retrofit at scale" across all housing tenures.