L&G-owned housebuilder creates two new roles to drive sustainability and offsite ambition
Cala Homes has announced the creation of two senior roles focusing on boosting sustainability and modern methods of construction (MMC) at the housebuilder.
The L&G-owned firm has appointed Kathryn Dapré as its new head of sustainability. Dapré joins Cala from NHS Scotland, where she has served as head of sustainability and energy for nearly 10 years.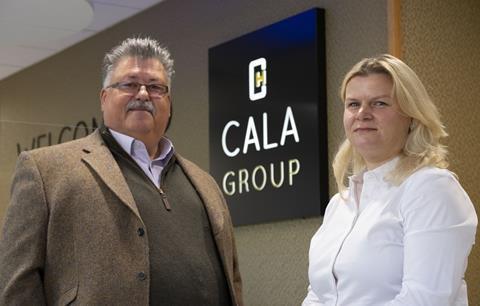 She has 28 years of experience in a variety of roles focused on sustainability and climate change and previously chaired the government-funded Sustainable Scotland Network steering group, which provides advice to organisations.
Robin Dodyk is joining Cala as head of modern methods of construction, after a stint as a specialist consultant. Dodyk has 44 years of experience in construction including 20 years at Oregon Timber Frame, which is currently owned by Barratt.
The duo have been appointed to help deliver Cala's sustainability strategy. L&G has made a pledge to be operationally net zero carbon by 2030, as well as reaching net zero greenhouse gas emissions in line with the Scottish Government's 2045 target and ahead of UK Government's 2050 target.
See also>> Cala Homes triples revenue after pandemic dip
Dodyk will initially spearhead a major initiative to roll-out timber frame across the entire range of CALA homes.
Dodyk said: "With timber frame offering up to a 20% reduction in embodied carbon over similar size traditional building methods, our plans to switch to this new approach is a huge focus. We will also explore other elements of MMC and wider innovations in construction to help achieve our net zero ambitions."