Schemes totalling 650 homes in Leeds and London get financial backing
Deals to fund construction of two build-to-rent schemes that together will provide nearly 650 homes in Leeds and London have been agreed.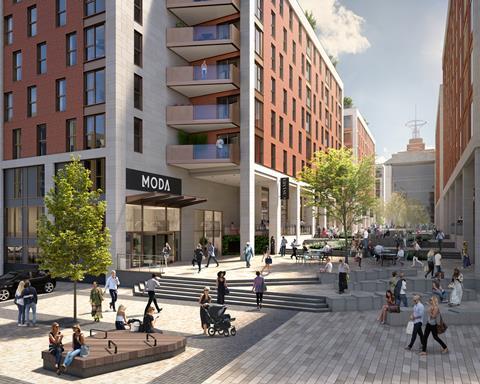 Build-to-rent operator Moda Living and investor Apache Capital Partners together said they have secured a £96m loan from LaSalle Investment Management to kick-start construction on a 515-home rental scheme in Leeds called New York Square.
The news comes a day after private rented sector investor Grainger announced it had agreed to forward-fund a 132-home scheme in its Hallsville Quarter development in Canning Town, east London, being developed by LinkCity and Bouygues UK.
Moda and Apache said in a statement that the New York Square scheme will have a development value of £150m, and will mark the first phase of plans for a £300m neighbourhood in Leeds, branded SOYO, from developer and contractor Caddick Group, the parent company of Moda.
The deal follows other recent build-to-rent agreements struck by Apache Capital and Moda, including a £118m loan for the Mercian scheme in Birmingham, £58.5m for the Lexington in Liverpool and £85m for Angel Gardens in Manchester.
Johnny Caddick, managing director at Moda Living, said: "LaSalle have been a fantastic partner to work with on multiple Moda projects and we are excited about future opportunities and our long-term working relationship with them."
Meanwhile, Grainger's decision to fund its latest Hallsville Quarter scheme marks the fifth private rented sector deal with partners LinkCity and Bouygues, and the third in Canning Town.
Helen Gordon, chief executive of Grainger, said: "Upon completion of this project, Grainger's east London cluster will comprise 748 purpose-built homes, providing scale and operational efficiencies."