Chair of the housing committee of MPs says industry's voluntary pledge is not enough
The chair of the influential housing committee of MPs has called on the government to go further than asking housebuilders simply to sign a voluntary pledge not to exploit buyers with costly leaseholds.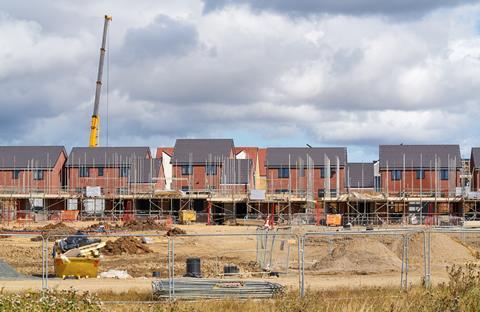 Clive Betts, Labour MP for Sheffield South East, wrote to communities secretary James Brokenshire this week outlining his committee's concerns around escalating ground rents after the government last month published details of an industry pledge which commits firms to doing away with onerous 'doubling clauses' that can result in ground rents soaring exponentially over a short period of time.
Brokenshire announced at the time that more than 40 building firms had signed up to the pledge to do away with what he called "toxic leasehold deals".
But Betts called for stronger action, including sector reform. The MP said his committee was "concerned that the government appears willing to place a significant level of trust in the same industry that created onerous leases in the first place.
"The government should not allow freeholders and developers to continue to charge onerous ground rents of any kind, including those that increase over time by RPI. There is no justification for ground rents increasing over time at all."
Bett's said the housing committee's report, published last month, had argued the balance of power was "too heavily weighted against leaseholders.
"Weak industry pledges are simply not good enough [and] more fundamental reform of the sector is required.
"We hope that the government's full response to our report will reflect a desire to act in the interests of the leaseholders…and not allow developers and freeholders, who created this crisis, to be allowed to define solutions."
Two years ago the government said it would look into the leasehold landscape after homebuyers complained of being locked into agreements whose costs spiralled year by year.
Taylor Wimpey admitted that certain of its leases contained clauses that saw ground rent on properties it built doubling every 10 years until the lease's 50th year. It acknowledged at the time that this had caused some of its customers "understandable concern".
The firm had to set aside £130m last year to compensate disgruntled customers affected by the leasehold situation.
The National Leasehold Campaign, which wants to see a complete ban on new leasehold houses and the adoption of commonhold for new flats and apartments, said: "It is a sad reflection of our broken housing market that this pledge has to be made at all.
"It's time for government to take a much stronger stance and avoid being taken in like Little Red Riding Hood as the leasehold wolves dress up like Granny.
"We've seen developers posting obscene profits. They can afford to do the right thing, they choose not to."