Council-owned housing firm want to build 425 homes instead of previous figure of 218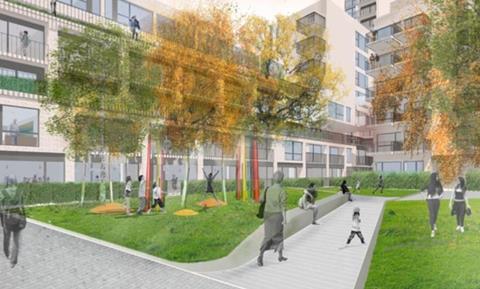 Brick by Brick, Croydon council's wholly-owned housebuilding operation, has applied to increase the number of homes it wants to build on the College Green site, which forms part of the revamp of the Fairfield Halls area into a cultural and residential quarter in the borough, from 218 to 425.
Original plans were going to provide a new campus for Croydon College on College Green but the college subsequently rejected this idea, leading to more land becoming available and allowing a greater focus on residential use on the site.
The new proposals envisage four blocks ranging from seven to 29 storeys in height, versus the previous plan which aimed for the same number of blocks but between four and 21 storeys high.
The latest planning application said the scheme anticipated the provision of 20% affordable housing by habitable room. All the affordable units would be intermediate tenure, with a range of unit sizes to be included as affordable housing.
The application also said that previous level of affordable housing by unit – 33 – and by habitable room – 18% – had been justified at the time to help support the revamp of the nearby Fairfield Halls (pictured) into a cultural quarter.
While it said the amended scheme was still intended to balance the cost of the refurbishment work, Brick by Brick had warned it "continues to be challenged (in terms of overall viability)" despite increasing the affordable housing offer by room to 20%.
The viability of the scheme was being assessed by the council's planning committee, it added.
Colm Lacey, Brick by Brick's chief executive, said the revised planning application was "great news" for Croydon, since it will allow for more high-quality homes of various types, including more family homes.
"We are currently onsite, having carried out extensive demolition and enabling works and look forward to developing this fantastic new quarter for Croydon," he added.
Two years ago planners gave the green light to Rick Mather Architects' proposals for the redevelopment of the Fairfield Halls, including the original 218 homes, as well as refurbishing the 1960s venue and creating a new 2,000m² art gallery in the venue's underground car park, masterplanned by Mott MacDonald.