Housebuilder to build up to 4,600 homes to the East of Bucks new town
Housebuilder Berkeley Group has been granted permission for a 4,600-home urban extension to Milton Keynes.
The Milton Keynes East scheme forms the majority of a parcel of land earmarked in the new town's local plan for the development of 5,000 homes, which was granted £95m last year from the government Housing Infrastructure Fund (HIF).
The scheme is being promoted by Berkeley subsidiary St James, which has said it plans to put around 4,000 homes on the 437 ha site, up to a maximum of 4,600, plus three primary schools, a secondary school, shops and community facilities, and a 400,000 sq m warehousing and distribution centre.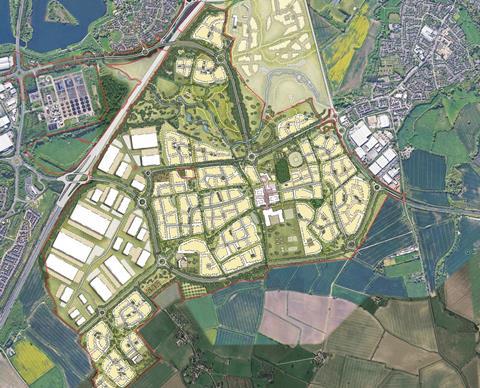 The decision by Milton Keynes' planning committee gives full permission to St James to build the necessary new roads needed to link the site with the nearby M1, while giving outline permission to the rest of the project.
St James has said that a minimum of 31% of homes will be affordable.
The plans were approved despite concerns from local parish councils that the development should be re-evaluated in the light of the government cancelling the previously proposed Oxford Expressway project, as the housing numbers "relied heavily on this infrastructure".
Milton Keynes' local plan states the site can come forward for "comprehensive redevelopment", subject to "the necessary strategic infrastructure being funded and delivered". Officers argued in their report to the committee that the securing of the HIF funding meant this condition had been met.
The rest of the homes envisaged for the urban extension are being planned for adjacent sites held by Bloor Homes.