Social housing regulator says figure is an increase on pre-pandemic levels
Housing associations have increased their development plans in the last three months and are planning to spend £17.5bn on development of new housing over the next year
The figure came in the latest quarterly survey conducted by the sector's regulator, the Regulator of Social Housing (RSH), which said the projection was a 3% increase on expectations recorded last quarter.
It is also above the level of projected expenditure seen in the quarters prior to the onset of the coronavirus pandemic.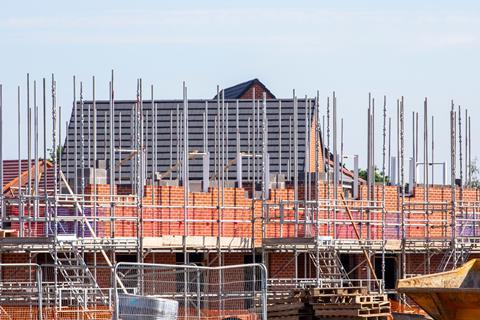 The survey found that £10.9bn of the funding was contractually committed, and came after the landlords spent £3.1bn on building new homes in the April-June quarter of this year.
This figure was up by 68% on the equivalent quarter in 2020, during which time many registered providers shut development sites during the initial covid lockdown.
However, the £3.1bn of spend was 30% below what the landlords had projected they were going to spend in the quarter, with providers citing materials shortages, re-phasing of grants and the stalling of section 106 schemes as all contributing to decisions to re-phase developments.
The survey findings come as the sector is taking stock following the allocation of £8.6bn in grants this week to a raft of providers to build affordable homes under the government's 2021-26 Affordable Housing Programme. The allocations, made by the GLA in London and by Homes England elsewhere in England, saw a number of historically significant developers, such as L&Q, Home Group and Peabody, reduce their grant-funded new build programmes, while other associations, councils and developers stepped up.
The quarterly survey also reported that house sales by housing associations fell back, after hitting record highs in the first three months of 2021.
The RSH said registered providers made £1.7bn of sales, down from £1.9bn in the quarter to March, with average margins increasing to 28%. The number of unsold units continued to fall, with a near 10% decline to 6,662 over the period.
Nevertheless, the RSH said there were still six providers that each held more than 100 homes which had remained unsold for more than six months. It said that in these cases it would "monitor the provider's liquidity exposure and test business plans to ensure they are robust enough to cope with a range of adverse scenarios".
Will Perry, director of strategy at the RSH, said the figures showed the social housing sector was "in a good position" to recover from the coronavirus pandemic.
He said: "Providers will need to remain alert and ready to respond to further changes in the operating and economic environment. They will need to closely monitor and update their forecasts as the economy re-opens and be flexible so that they can effectively manage any increasing risks."