Housing associations say long term funding deals could 'transform' the development capacity of the sector
Housing associations are calling for the government to double the length of the five year affordable housing programme after research conducted by the Bartlett has found that it would "transform" the sector's development capacity.
The call has been issued a day after the government set out a £11.5bn affordable housing programme designed to see 180,000 affordable homes built between 2021 and 2026.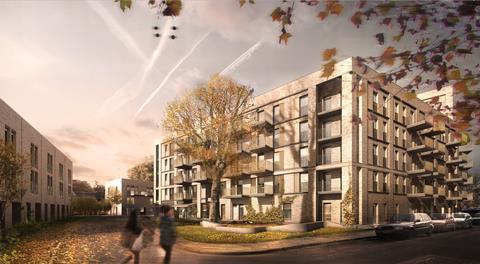 The research by the Bartlett School of Construction and Project Management at UCL, found that recent 3-5 year programmes, such as the one launched yesterday, had contributed to associations taking a cautious approach to development because of the lack of long-term certainty over income.
In particular, the research found it had impacted on associations' land-buying behaviour, the type of sites they have taken forward, and their ability to collaborate with other players in the market.
Under the current funding model, housing associations apply to Homes England for funding under the programme in order to allow them to build homes available at sub-market prices. At large associations, this income is supplemented by cross-subsidy from the sale of open-market homes, making new homes harder to deliver in a downturn.
The current system also contributes to a reliance on buying homes delivered by mainstream housebuilders under Section 106 deals.
The research, commissioned by a coalition of the National Housing Federation (NHF), housing charity Shelter and the Consortium of Associations in the South East (Case), concluded that doubling the duration of Affordable Homes Programmes from five years to ten, would address these problems, enabling housing associations to more easily buy land without planning permission, take on more complex sites, invest into in-house development teams and forge new partnerships with other developers and contractors.
The report says: "If administered flexibly and accompanied by adequate grant rates across a variety of tenures including social rent, it could have a transformative effect on housing associations' development capacity."
The research comes after other recent reports reaching similar conclusions. Consultant Cast found that a ten-year affordable housebuilding programme could increase the efficiency of the industry by 70%.
Polly Neate, Shelter chief executive, said the UK desperately needed to be building more social homes. "This research shows how extending the Affordable Homes Programme, and significantly increasing government investment in social housing, could mean we get the homes we so desperately need."
Elizabeth Austerberry, Moat chief executive and chair of Case, also called for a more long term approach to funding. "Housing associations would then be able to better plan for sustained development activity rather than trying to manage housing delivery in line with a series of short-term programmes against an uncertain future," she said.
Kate Henderson, chief executive of the NHF, said: "Alongside a once-in-a-generation investment in social housing, we also need to think about how this money is distributed. As this research demonstrates, long-term funding is essential in ensuring that housing associations can have the greatest possible impact."
Launching the 2021-26 Affordable Housing Programme yesterday, housing secretary Robert Jenrick said the plan represented the highest single funding commitment to affordable housing in a decade and was "part of our comprehensive plans to build back better" after the pandemic. He said: "This government is helping hard-working families and prospective first-time buyers get their feet on the housing ladder in an affordable way."