US investment firm KKR to fund remaining £1.7bn build pipeline
Build to rent specialists Moda and Apache have signed a deal that will see US firm KKR invest £610m to finance the building out of the remaining 4,000 homes in their development pipeline.
The firms said the deal will allow the construction of £1.7bn of city centre homes for rent, to be operated by Moda Living.
The funding allows development of the remaining homes in what was originally billed as a £2.5bn portfolio of sites to be built out by the partnership between Moda and Apache, where Moda acted as the developer and Apache as the investment manager.
Until now, the funding for the pipeline of high-end rental schemes, which totals more than 7,500 homes overall across eight UK cities, has come from investors Harrison Street and NFU Mutual – a role KKR will now take on for the remainder of the pipeline.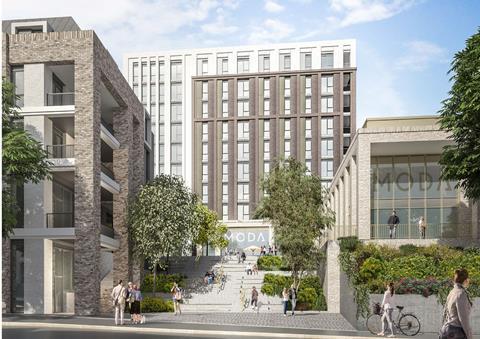 The firms said the schemes will be built to "the latest design specifications" and include "high levels of on-site amenities" and services for residents. The £610m has been committed by KKR, to be drawn down once conditions related to the readiness of Apache and Moda to develop are met.
Schemes in Brighton & Hove, Birmingham and London will be brought forward by the funding.
This deal is separate to that announced last week by Moda under which it is getting a direct cash injection from KKR for a separate 5,000-home pipeline of mid-market rental projects.
The agreement also comes as both Moda and Apache have increasingly been signing their own separate deals to expand their development ambitions, with the two firms independently launching rented single family housing businesses in the last six months.
Rosa Brand, director at KKR, said investing in the build to rent sector was a "thematic priority" for the firm. "We are excited to work alongside Apache Capital, and Moda Living, both highly experienced strategic partners with excellent track records, over the long term, to deliver a best in class portfolio in the build-to-rent residential sector," he said.
Tony Brooks, managing director at Moda Living, said: "With the backing of Apache Capital and KKR we will deliver the next generation of build-to-rent neighbourhoods that will set new standards for style and service while meeting the growing demand for high quality rental housing