Located in northern England, the unusual project is an entirely circular build complete with a circular front door and rounded windows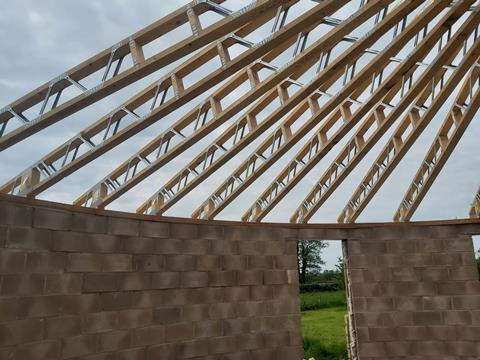 In a secluded rural spot in Preston, northern England, a unique building is coming to life.
Tucked away beneath a sedum grass roof is an entirely circular house complete with a circular front door and rounded windows. Set into an artificial hill with country paths meandering around the property, it's been aptly named the Hobbit House.
It's an unusual space, and it's been designed that way. Built by Benthom Developments, the property's future is as a themed holiday let. With its unique look and idyllic setting, we're sure it will be a memorable 'get-away' spot.
It's an unusual space, and it's been designed that way.
Black Barn Architecture's director, Chris Homer, had a specific vision for the circular build. Unique designs need unique support, and MiTek's Posi-Joist was the best solution for bringing this project to life. The scope and size of the project meant that metal web joists were the only practical solution to create the desired span, strength and shape.
A key feature of the design is the overhanging roof, allowing space to walk around the entire underside of the property. The joists sit on the walls, allowing the roof to be enjoyed in all its splendour. Featuring a 15-degree pitch circle and a vent at the top of the roof, Posi-Joist was the ultimate option to achieve the desired span, and roof load with the sedum green roof. An impressive 45 joists will support the roof.
The inside of the house features an open-plan design. It's got everything you might need inside a circle – from a master bedroom with an ensuite, living and dining areas, to a six-metre-high eye-catching ceiling that serves as the centrepiece to the property.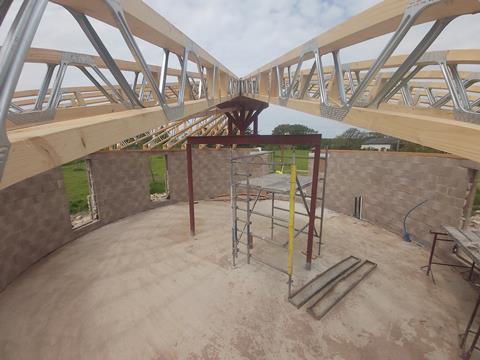 David Tudor-Lewis from engineered flooring specialists, Joistz, has been working with Benthom Developments for the past two years and MiTek for the last year. A previous user of Gang-Nail, Tudor-Lewis now predominately uses Posi-Joist in his projects, with software platforms PAMIR and MBA for design and business management:
"I'd say it's a fantastic product. A lot of what I focus on is encouraging people to move to Posi-Joist from the older methods, just because it's better in every aspect," explained Tudor-Lewis. With a background specialising in unusual properties, the Hobbit House has been a breath of fresh air for him.