Property developers need to continue to find new ways to create spaces where people want to live, work, play and invest in
The way many people work, socialise and crucially, the way people think about and use their living spaces has changed over the last 18 months. Having been confined to homes for large swathes of the pandemic, people have gotten more creative with home improvements, smart technology, and updates as they take a step back and truly analyse what they really want from their properties.
With many people feeling more attuned to how their properties or future properties meet their needs now, and into the future, property developers need to continue to find new ways to create spaces where people want to live, work, play and invest in.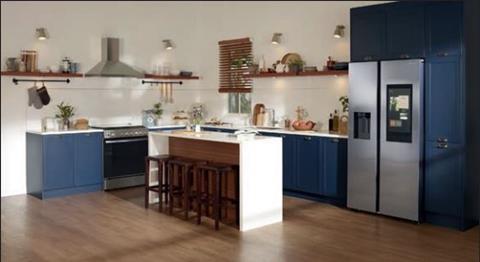 A new Samsung Electronics UK led research study* revealed that almost three quarters (74%) of UK consumers look at their homes differently now than they did pre-pandemic, with technology and sustainability being two of the areas that matter most to them.
As the nation enters a new era of hybrid living, we are experiencing a gear change in lifestyles which is fuelling a shift in consumer attitudes towards what they want from their homes. With over two thirds of UK residents wanting a digitally connected property to save them time and effort and even more people (77%) stating that having a sustainable home should be a priority for everyone.
66% of homeowners, renters and students are already embracing technology and already have smart technologies in their homes, primarily for entertainment systems and smart amenities like energy meters, doorbells, and security cameras. So, it's not surprising that three in four people believe that smart home technology is the future of property development.
When it comes to sustainability, having greener homes and a lower environmental impact is now sitting near the very top of Brits' property priorities with almost four in every five people (79%) considering how environmentally friendly their property is before deciding where to live.
"With the rise in remote and hybrid working, and a blending of the spaces where we work, live and play, it's no surprise that how we look at our homes has changed significantly over the last 18 months. More time at home has shone a spotlight on how crucial technology is to our lives and gave us a chance to focus on how we can all be a bit greener too," said Murtaza Bukhari, GM – Strategic Partnerships Samsung Electronics UK and Europe. "Property developers, construction firms and designers all need to listen closely to demand and create spaces that are smarter, more energy efficient, powered by tech and influenced by residents' priorities."
Samsung collaborates with partner organisations across the construction and private residential sectors to help shape the properties of the future. Together with brands such as Etopia Group, Future Generation, Moda Living, and Quintain, Samsung is creating smarter, more connected spaces that are powered by technology.
Technology can play an important role in helping residents be greener, with most consumers now thinking that smart tech is important when it comes to home sustainability because it can help people measure usage, save money, and change habits to help live more sustainability.
One example of how a technology-led mindset is shaping the homes of the future is Samsung's partnership with innovative housebuilder, Etopia Group, a disruptive player in sustainable housing. Etopia combines a technology-first approach to construction with a Net Zero ethos to reimagine the future of homes. Samsung and Etopia joined forces to help revolutionise the way energy-efficient homes are delivered globally. Through a shared ambition and vision to shape the future of the market, the partnership focuses on delivering sustainable housing and lifestyle through technology innovations.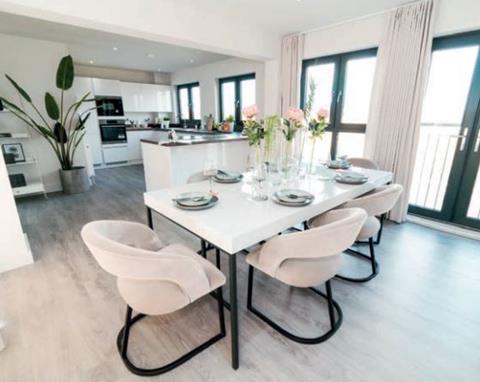 A key ethos of the partnership is to use IoT, to create spaces that are smarter, powered by tech and shaped by what residents want, providing more connected spaces to live.
Etopia's latest developments not only integrate Samsung's trusted technology from the ground up to ensure that smart innovative solutions are built into the design from day one, but also allow consumers to collect real time data on how they operate their homes.
All Etopia's projects use Samsung's cutting-edge climate tech solutions which satisfy regulatory demands while providing a sustainable Air to Water Heating System (Eco Heating System) which uses innovative heat pump technology and can be connected to solar panels saving energy through renewable sources.
With the Covid-19 pandemic impacting how everyone works and lives, the rise of hybrid working has led to many people leaving big cities in search of bigger, greener, and more balanced lives. However, for many people, a move to the countryside doesn't mean they want to compromise on the level of amenities or convenience they enjoy so the need for smart tech to support this convenience lifestyle is key.
Etopia and Samsung are tackling these trends head on by building sustainable properties to meet the new consumer expectations for greener, smarter homes.
Alongside this, Etopia's net-zero products rank among the top 0.1% of housing stock in terms of energy-efficiency. Thanks to precision‑engineering techniques deployed at the company's Cheshire-based factory, Etopia is able to create homes that meet and exceed soon-to be-introduced building regulations, removing the need for expensive retrofitting programmes later down the line; they are incredibly airtight, meaning less heat escapes, and they have the potential to provide consumers with significant savings on energy bills during the long‑term.
The only way that you can monitor carbon neutrality is through a smart home system, so Etopia and Samsung have embedded smart innovations into all projects. This ensures that customers can connect to their homes and enjoy a more convenient way of life while being able to monitor the success of their property's sustainability goals.
The shared vision of Etopia and Samsung working together for a more sustainable future has cemented the partnership, as Etopia continues to collaborate with Samsung to build more developments across the UK and the globe.
Joseph Daniels, Etopia CEO and Founder, said: "At Etopia, we do things differently by making it our business to understand how people live so we can build with consumer lifestyles in mind; working with Samsung has played a key role in understanding our communities. Unlike many developers, we never see tech as a bolt-on afterthought; it is incorporated into everything we do and that's why customers say that our developments are more like spaceships than traditional houses because they are so high tech. Previously, we have been referred to as the 'Tesla of housing' as we have built and future proofed our homes from the ground up, similarly to how Tesla disrupted the car industry and led the new generation of EV. Our partnership with Samsung will help consumers understand the benefit of low-carbon living and help them shape their behaviours and habits so that they can live more sustainably."
As the world adjusts to a new era in hybrid living, people want to be more connected to their homes and live more sustainably: now is the time for the industry to continue to shift and future-proof to stay apace with this rate of change.
Find out more about how Samsung is shaping the homes of the future and some of its latest partnerships here: Samsung.com/uk/construction
*Samsung Electronics UK commissioned survey with 2,000 homeowners, renters and university students in August 2021 explores the shift in attitudes and what consumers demand from housing since the pandemic.