'Safety measure' sees wooden decking replaced on balconies
Westminster council has removed timber decking from the balconies of more than 700 flats across the borough as a "safety measure".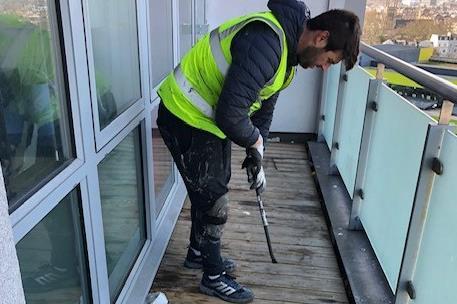 Wooden decking has been removed from balconies on 750 flats across six 21 storey-tall residential blocks – known as the Little Venice towers – on the Warwick and Brindley housing estates in Paddington, west London. It has been replaced with light concrete tiling.
In a statement the council said: "While the balconies came up to previous fire safety standards, in the wake of Grenfell new advice was published which the council has moved quickly to adopt.
"Removing the timber decking panels and replacing them with non-slip easy to clean concrete tiles is costing the council £3m, but resident safety remains the top priority.
The council said some of the 3,000m² decking would be used in allotments on the estate and the rest would be recycled.
Westminster said it had removed all of the ACM cladding from the Little Venice towers, and will start work to re-insulate them later this year "by applying a completely non-combustible alternative that was agreed with residents".
There were no other council-owned residential buildings with timber frames, balconies or decking, the council added.