Chicago-based CA Ventures to invest up to £380m a year in schemes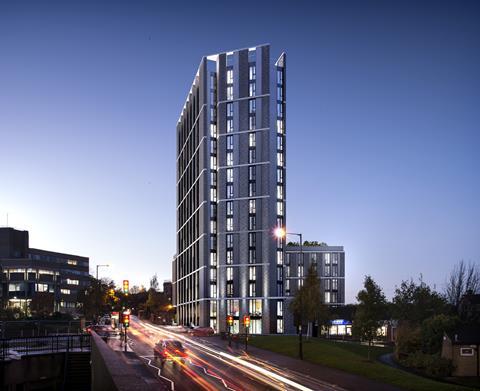 US real estate firm CA Ventures has announced plans to invest £200m per year in build-to-rent schemes in the UK and Europe.
The Chicago-based property business, which has a £10bn portfolio of properties, said today it has appointed former Lothbury Investment Management director Tim Phillips to spearhead its drive into the UK and European build-to-rent sector.
The firm said in a statement that it initially expected to invest £200m a year in schemes, but that this will rise to £380m a year by 2025.
It said Phillips, who is based in the UK, will start the push in the UK before looking to enter continental Europe. CA Ventures has already started a student accommodation development business in the UK, with £500m of development across three sites in Glasgow, Edinburgh and Seffield (pictured).
The news comes after the British Property Federation revealed that 10,000 build-to-rent properties were completed last year, the highest on record.
Phillips, whose title is head of PRS, Europe, said the firm saw great opportunities in the build-to-rent sector. "By developing long-term focused assets of the highest quality, with the best locations and professionally managed, I firmly believe CA Ventures can deliver institutional grade returns."
Carlo Matta, head of Europe at CA Ventures, said: "We believe there is enormous potential in a sector that is seeing record levels of year-on-year investment and, with more than decade in the industry, I'm fully confident Tim will successfully lead the CA Ventures team's expansion into the sector."