Calls follow blaze in Barking, east London, where 10 flats were destroyed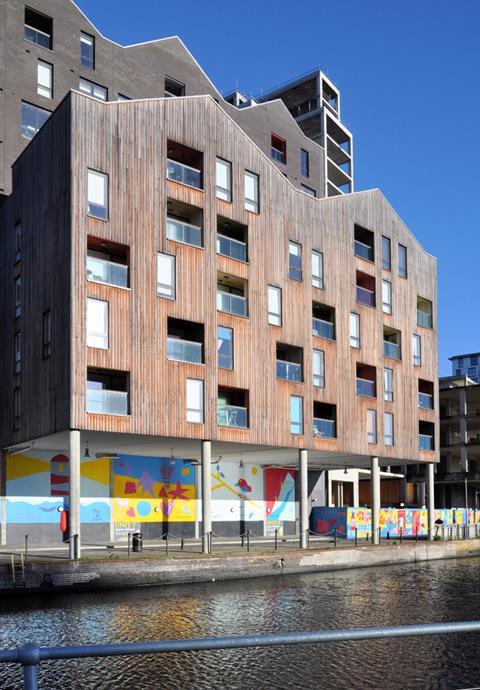 A fire expert has called for tighter regulations in the wake of the blaze which ripped through an apartment scheme in Barking, east London, a fortnight ago.
The fire at Samuel Garside House in De Pass Gardens, Barking, a near-14m-high four to six storey block, destroyed at least 10 flats, and while no-one was seriously injured the incident has thrown the use of timber as a material used on the outside of certain buildings into sharp focus.
Ronnie King, a former treasurer at the Fire Sector Federation, and now an advisor to the All Party Parliamentary Fire Safety and Rescue Group, said the regulations needed changing, despite the government appearing unwilling to tighten rules on residential building lower than 18m.
"Flats below 18m are a risk," said King. "In my experience people won't get out of buildings three floors or higher. I don't think anyone should have their home wrapped in combustible material. Not now, knowing what we know," he added. "We've got to make the regulations tighter."
But even if the regulations were to be tightened there are concerns this would do nothing for the many existing timber-clad blocks, since Building Regulations are not retrospective. The government's post-Grenfell Building Safety Programme has, however, identified those buildings higher than 18m clad with flammable ACM panels, and allocated money to help landlords replace them.
Yet applying this to all timber-clad flat blocks under 18m would prove expensive. King said: "There will be a lot more buildings at risk between 10m and 18m [and] that's where we've got a problem. It's very tricky to make regulations retrospective, but there should be a halfway house that allows work to get done. The problem is the cost."
Andrew Mellor, partner at housing architect PRP, said the fire had spooked a number of his practice's clients, particularly social housing providers, given how many low- and medium-rise blocks are clad in timber.
"Timber was really fashionable about 10 years ago," he says. "It's caused a lot of concern. I've had clients call me and say they have similarly-designed blocks and [ask me] what should they do."
He added: "The initial thing worried landlords should do is to do a risk assessment and work out what the risks are."
There is no requirement within the guidance that sits beneath the Building Regulations for residential buildings lower than 18m to use materials of limited combustibility. Even the government's ban on combustibles, brought in last December, only applies to building above 18m in height. Fire engineer Steve Cooper, director at consultant Tenos, said: "In general, if the building is less than 18m, timber is perfectly acceptable.
"There's nothing in the Approved Document [B] that says you shouldn't do this," though he said in the "current climate" clients would likely take a much more risk-averse approach, and he would advise them to "look very carefully" at what other measures were in place to protect from fire.