Strategic land specialist Terra has won outline approval for the second stage of Hawkesbury project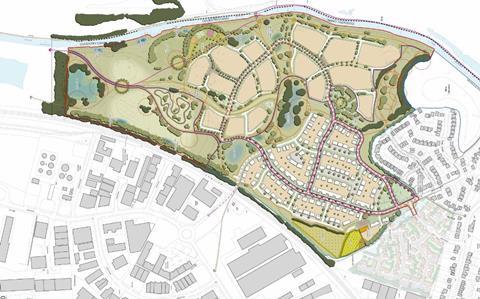 Nuneaton and Bedworth Borough Council has granted strategic land firm Terra outline planning permission to build 176 homes as part of the second stage of a development in Hawkesbury, Warwickshire.
The 39-acre phase two development of the 'canal village' will also include landscaped public open space, park provision and a new bridge over Coventry Canal.
James O'Shea, managing director of Terra, said the firm had purchased the whole 72-acre site unconditionally before securing the allocation for residential development in Nuneaton and Bedworth's borough plan. He said: "We are very pleased to receive a resolution to grant outline planning consent for the second phase. This 'canal village' is creating a vibrant new community, which is only a five-mile canalside walk or cycle ride into Coventry city centre."
The whole £115m project will provide 380 homes. In the first phase, 153 open market properties and 51 affordable homes are being built. Detailed planning approval for the first phase was granted in 2021, with Terra's sister company Living Space now working with Vistry Group on the first 204 homes.
The length of the development area is bounded by the canal and lies just north of the Hawkesbury village, which is served by bus routes, schooling and local amenities.
The masterplan for the whole 72-acres has been carried out by Hampshire-based Thrive Architects.