Completion of the work on the Nine Elms scheme in south London is expected in 2024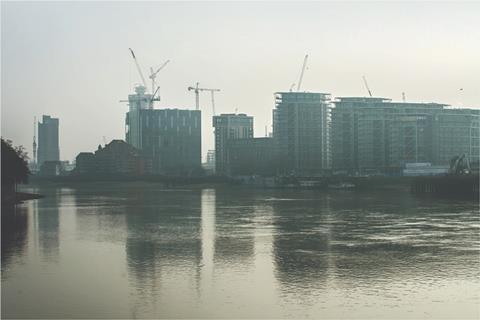 Telford Homes has signed a design and build contract worth £276m to deliver nearly 900 rented homes at Nine Elms in Battersea, south London.
The housebuilder will build 894 homes on the site, with completion expected in late 2024.
The first steps in the deal with US property developer Greystar were taken two years ago, when Telford Homes agreed to assist in acquiring detailed planning approval for the site on which Greystar had exchanged contracts to acquire two plots of land totalling 2.67 acres from Royal Mail for £101m in cash. That land deal has now been completed.
Also involved in the design and build contract is real estate investment group Henderson Park, with which Telford has worked before.
Jon Di-Stefano, Telford Homes chief executive, said his firm had been working on the detailed design of the homes and work could now start immediately on site.
"We continue to make progress against our objective to increase the group's output of build-to-rent homes in London, and this contract with Henderson Park and Greystar, with whom we have a strong relationship, highlights our position as a trusted partner at the forefront of this fast-growing sector."
In February Telford sold the 3-acre Equipment Works site in Waltham Forest, east London, which it owned, to Greystar and Henderson Park.
And last month Telford reiterated its shift towards developing build-to-rent schemes and said it was preparing to reframe a number of its planned developments as build-to-rent schemes as it looks to reduce its exposure to the private sales market.
Announcing its annual results the housebuilder told investors part of the driving force behind the move was what it called a "fundamental imbalance between demand and supply of rental properties in London at affordable rent levels […] We firmly believe that institutionally owned build-to-rent developments are key to increasing housing delivery in London."
Last month Greystar announced the launch of a new fund series to develop purpose-built rental housing properties in the UK. The group said its Greystar UK Multifamily Fund I would target £750m in capital commitments from institutional investors.
At the launch Bob Faith, Greystar's founder and chief executive, said there was "a significant need for professionally developed rental housing in the UK as the current stock is under-supplied, outdated and poorly managed.
"The creation of this vehicle enables us to apply our market knowledge as well as our operational and development expertise to create an institutional-quality housing portfolio that appeals to a diverse base of renters."