Igloo's 132-home scheme is first part of 1,000-home regeneration project
Sunderland council has approved plans for 132 homes by developer Igloo which will form the first part of an ambitious 1,000-home regeneration of the former Vaux Brewery site on the banks of the Wear.
The 91 houses and 41 flats, designed by architects Proctor & Matthews and Mawson Kerr, will be built using modern methods of construction and form part of a longer-term vision to rebrand the city as a hub for sustainable living.
Igloo's chief executive, Peter Connolly, said: "The people of Sunderland have really embraced what we're trying to do at Vaux, so planning approval is a massive step forward for the city and its focus on sustainability, and on its vision to be carbon neutral by 2040."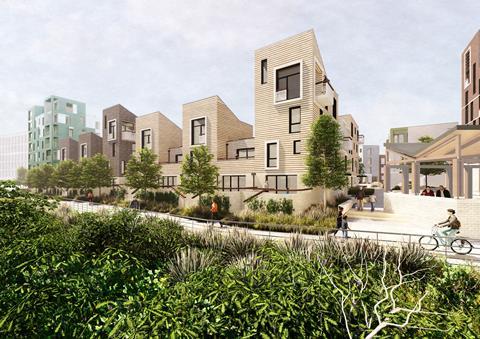 He said the firm's plans for the site were designed to "embrace the realignment" of people over issues such as "work/life balance, localisation and wellbeing as we emerge from the pandemic".
Igloo said that work on the scheme will begin this summer, with the homes built in time for the city's planned Future Living Expo in 2023.
The 1,000-home plans for the Vaux site are themselves part of a wider regeneration plan for Sunderland's riverside heart, designed to provide 2,500 homes and a new central business district with 1 million sq ft of office space.
Igloo is acting as development manager on behalf of Sunderland City Council, which owns the site.