Levelling Up department figures show 10.9% drop in completions, as minister insists 300k housing target achievable
The number of homes started and completed in the final quarter of 2021/22 is sharply down on the same period last year, in the latest set of data to suggest development is slowing.
Fgures published this morning by the Levelling Up, Housing and Communities department (DLUHC) show the total number of homes started in the quarter fell 7.3%, from 45,690 to 42,350, year-on-year. Completions were 10.9% lower in the quarteer compared to the same period in 2020/21 (see below)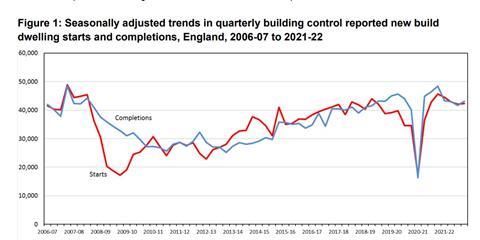 The drop-off in starts activity was more pronounced in housing association activity. Housing association starts fell 17% to 7,070 homes, compared to private housebuilding whichg fell 4.4% to 34,970.
However when it comes to completions, the drop was bigger in the private sector, with completions by commercial housebuilders falling 11.5% to 35,110, compared to a 5.1% drop to 7,810 among housing associations.
The data was released this morning after DLUHC minister of state Lord Greenhalgh was yesterday forced to defend what he claimed was merely a "slight falling back" on housebuilding rates, following questions in the Lords over the government's commitment to meeting its 300,000 homes-a-year housebuilding target. He said: "All our internal assessments are we will see a rebound. The dip see this year is not something that will be pronounced or will continued into the mid decade.
"It's a stretching target to hit 300,000 [homes-per-year] but we're going to see increasing numbers in the years to come."
The drop-off in starts and completions follows a number of other indications that housing development is slowing down.
Other ONS data shows the number of new Energy Performance Certificates lodged in England in the final quarter of 2021/22 is 8% down compared to the same period last year.
See also>> Are we seeing the start of a housing development slowdown?
Housebuilding output declined 1.2% in March, while new orders for housebuilding in January to March are 11% below their peak in the third quarter of last year.
ONS data also shows an 11% decrease in the number of net additional dwellings in 2020/21 compared to 2019/20.
The ONS also published its house price index today, which showed house prices UK average house prices increased by 12.4% over the year to April 2022, up from 9.7% in March 2022.