Impact Capital was formed this year by entrepreneurs Nick Shattock and Robert Whitton
Start-up modular housebuilder Impact Capital has submitted plans for 56 homes in Sevenoaks, Kent.
The firm, formed this year by property entrepreneurs Nick Shattock and Robert Whitton, said the develop will exceed by 100% the sustainability requirements for the scheme under building regulations. It will incorporate solar energy generation, water harvesting and radiant heating, saving up to 40% of the carbon footprint of traditional build.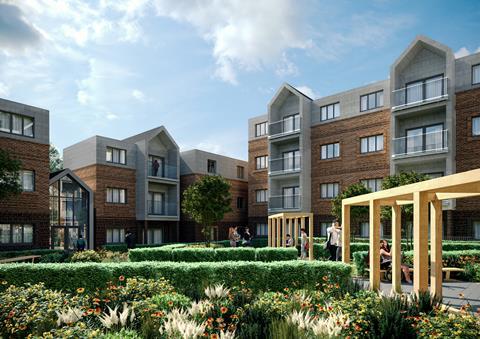 The firm said the town centre scheme will be made up of 56 one and two-bedroom flats, set around a landscaped communal garden.
The developer was formed with the with the backing of £100m from a private family fund, using part of that cash to purchase the loss-making offsite firm Lesko Modular and thus gaining a modular manufacturing facility in Peterborough.
Co-founder Nick Shattock was formerly deputy chief executive of developer Quintain, while Robert Whitton previously set up property firm aAim Group.
In June the firm said it was hoping to get on site with its first scheme, a 620-home development in Romford, early next year.