Labour leader uses conference speech to announce plan to improve energy efficiency of 19 million UK properties
A future Labour government would spend at least £6bn a year on retrofitting the UK's inefficient housing stock in order to prepare the country for net zero, Keir Starmer pledged today.
Delivering his speech to the Labour conference in Brighton, the party leader said it would be Labour's "national mission" over the next decade to make sure that every home is warm, well-insulated and costs less to heat.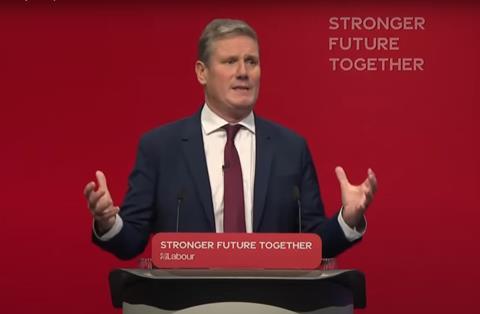 Starmer (pictured left) said the plan, which would form part of a "green new deal", would create thousands of jobs in the construction industry.
He also attacked the government's decision to scrap Labour's zero carbon housing target for 2016, which he said had seen emissions from homes increase, contributing to a "crisis in energy prices" and resulting in "the least energy-efficient housing in Europe".
The pledge contrasts with the Conservatives' failure to tackle the energy efficiency of homes. The government's Green Homes Grant scheme had to be cancelled after less than six months following long delays and low take-up.
The government's climate change advisers, the Committee on Climate Change, have repeatedly called for a strategic long-term approach to improving the energy efficiency of UK housing, in order to put the country on the path to achieve net zero emissions by 2050.
Following the speech, the Labour Party sent out a statement which said the programme would cost £6bn a year annually, saving families £400 a year on energy bills. It aimed to tackle 19 million homes.
The party said the plan would also provide security for working families by helping to ensure that the lights don't go out and making "households less vulnerable to surges in energy prices".
The government has pledged to spend £9bn on energy efficiency measures for UK households before the end of this parliament, equivalent to less than £2bn per year.