House prices have risen by nearly £20,000 in three months
House prices hit a record high in all regions of England and Scotland for only the second time in 15 years, according to Rightmove.
The property portal's house price index for April shows the average house price rose 1.6% in April to £360,101.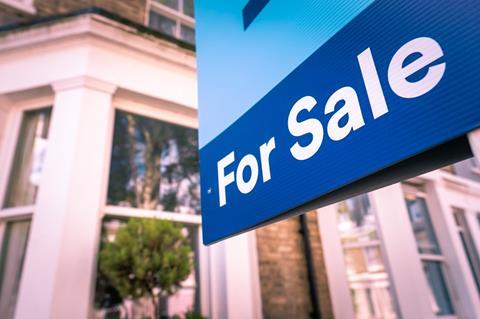 This is also the third month on the trot that the record house price has been broken, and follows a 1.7% increase in March which was the highest for the time of year for 18 years.
The Rightmove index also shows that the average time to sell a property is now just 33 days, half the time in took to sell a property three years ago (67 days). Rightmove said 53% of properties sold at their asking price or higher, the highest percentage it has ever recorded,
The data is the latest to suggest there is no sign yet of the impending slowdown in the market expected by commentators and market experts. The most recent data from Halifax earlier this month showed house prices have risen for nine months in a row, while Nationwide has also reported "surprising" growth at a 17-year high. The Royal Institution of Chartered Surveyors reported a jump in new buyer enquiries.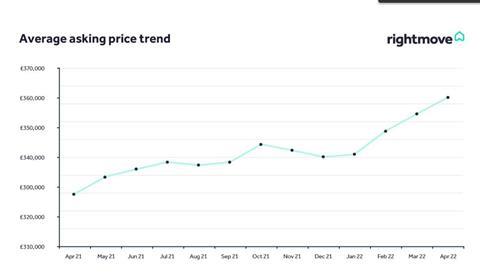 Tim Bannister, director of property data at Rightmove said a large number of buyers chasing too few properties has led to a "spring price frenzy'.
He said: "It can't and won't continue like this, but with the demand and supply imbalance being so out of kilter, it looks like any substantial slowdown will be gradual in coming and be a soft rather than hard landing.
"It seems likely that the supply/demand mismatch will remain for at least the rest of this year. Even with some economic uncertainty, where you live and your home is such a fundamental decision for people that it will remain a priority for many."
Geoff Garrett, director at mortgage broker Henry Dannell, said "growing economic headwinds" are likely to take their toll further down the line, with price growth unlikely to remain as high.
He said: "While we don't expect to see market activity evaporate completely, the growing cost of living will be a significant factor in the months to come and as household finances are stretched, it's likely that prospective buyers will ease off on the sums they're willing to offer. As a result, sellers will need to realign themselves with these changing market conditions and this will cause the rate of house price growth to cool."