Official figures show number of decisions on major applications fell by 27% in April-June quarter
The number of major residential planning applications decided fell to the lowest level in eight years in the three months to June, according to the latest official figures.
The housing ministry stats, which cover the period at the height of the spring pandemic lockdown, show that just 1,248 major residential planning applications were submitted between April and June, a drop of more than a quarter from the same period in 2019.
This represents the lowest number of major residential submissions since the summer quarter in 2012, prior to the introduction of the government's Help to Buy scheme. Major residential planning applications are those involving 10 or more new build homes, or on sites of more than 0.5 hectare.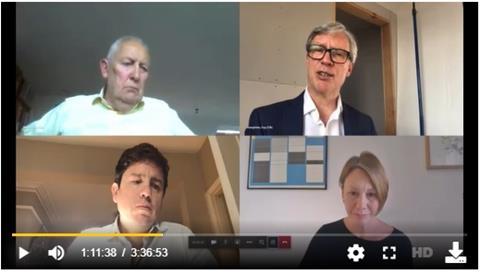 The decline in residential planning decisions came despite strenuous efforts by councils such as Wandsworth to move planning committees online (pictured, right) where lockdown measures made convening committees physically impossible.
In March the government rushed through rules, following request by developers and councils, allowing committees to meet and take decisions via "virtual" planning committees.
Of those submitted, 82% were granted, marginally up on the figure in the first quarter of 2020, with 88% decided within the government's limit of 13 weeks.
The number of residential decisions on sites of fewer than 10 homes (minor applications) also declined, by 15%. Because of the large number – 8,078 – minor residential decisions, overall the number decided fell by 16% in the quarter, compared to the same period in 2019.
The government did not say how many homes the decisions taken in the quarter amounted to, however, it said "provisional" figures showed that decisions permitting 356,300 new homes were taken in the year to June, down 11% from the 398,000 permitted in the previous year.