Leading firms join forces with government and environmental groups to launch future homes delivery hub
Leading UK housing developers and builders have teamed up with the government and environmental groups to announce an initiative to build homes that are net zero-ready within four years.
Heavyweights including Peabody and Barratt have committed to a plan alongside Homes England and the National Home Building Fund to build housing that is "consistently low carbon, nature rich, resilient, healthy, well-designed and beautiful" by 2025.
It is the first sector-wide plan in the UK to cover the full range of environmental targets from net zero carbon emissions to nature, air and water quality, waste and wider design considerations around place-making.
Housing secretary Robert Jenrick said: "It is right that the industry is stepping up to play a leadership role here: delivery and innovation to meet the challenges requires common purpose and partnerships that are being formed."
The plan, which has been developed by industry group the Future Homes Task Force, will see the creation of a future homes delivery hub which will act as the "focal point" for the implementation of the commitments.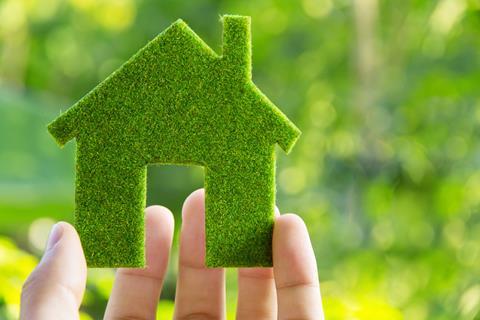 The taskforce described the hub, which will be launched in September, as a "safe space" for the sector to pool technical capacity and innovations and find solutions with other sectors.
Goals also include developing production and construction methods that are net zero by 2050 with "substantial progress" by 2025, and business operations with a 50% reduction of carbon by 2030.
Home Builders Federation boss Neil Jefferson, who chairs the taskforce, said the housing sector is "taking leadership" of the government's net zero agenda. "The government has set out a clear legal framework for tackling climate change and restoring the natural world," he said.
"Meeting these targets means a wholesale change in how we design and build homes for future generations. This is a challenge we are committed to tackling head on."
He added that supporters will hold each other to account to ensure they "deliver on this vital agenda as quickly and effectively as is possible".
Supporters of the scheme also include Redrow, Persimmon, Countryside, Crest Nicholson, Taylor Wimpey, Bellway and modular builders TopHat and Ilke Homes.
It has been developed alongside the Royal Society for the Protection of Birds, the Environment Agency, and the UK Green Building Council along with the National Housing Federation, the Construction Products Association and the Federation of Master Builders.
Homes England chief land and development officer Stephen Kinsella said the supporters all recognise the need to "take a leap towards our net zero carbon future".
He added: "Delivering energy efficient homes in well-designed and sustainable communities requires vision, collective leadership and innovation."
The net zero elements of the plan are in line with a wider construction performance framework, announced last week under the Construction Leadership Council's CO2nstructzero programme.
The CLC's plan, which was revealed in a webinar last week by Housing Today's sister title Building, includes reducing the amount of plant running on diesel by 2035 and offering clients net zero designs from next year.