£100m turnover business put on the block this autumn
Scottish timber specialist Donaldson Group has bought the timber frame arm of housebuilder Stewart Milne for an undisclosed sum.
The business put the division up for sale in October as part of an ongoing restructuring and refinancing process at the Scottish housebuilder.
At the time, it said Stewart Milne Timber Systems, which it said was on course to turn over £100m in the current financial year, was being sold to cash in on current market enthusiasm for off-site manufacturing and modern methods of construction.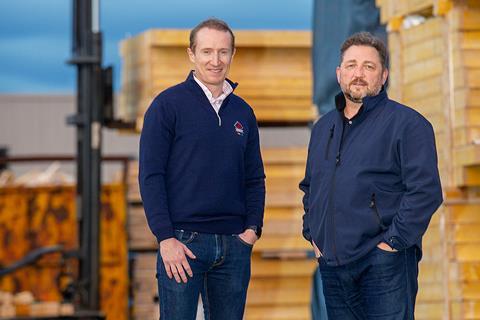 The firm said the 400-person business, which had income of £65m in the year to October 2020, currently had an order book of more than £300m, with sales to the likes of Barratt, Taylor Wimpey and Cala.
The sale comes as the £270m turnover housebuilder undergoes a "comprehensive refinancing" following the Aberdeen-based developer reporting £120m of losses in the last two financial years.
Fife-based Donaldson has embarked on a string of acquisitions since the start of last year when it bought Rowan Manufacturing, a firm specialising in doors and bespoke joinery.
Established in 1975 as the timber frame arm of the Stewart Milne Group, SMTS operates across the UK from three manufacturing plants in Aberdeen, Witney, Oxfordshire, and a new facility in Falkirk.
Stewart Milne group managing director Alex Goodfellow will move over to Donaldson as chief executive of SMTS, which has been renamed Donaldson Off-site Manufacturing. Current SMTS managing director Rod Allan will stay in his role, with all other staff and operations remaining unchanged.
A spokesperson for Donaldson said a rebrand of the business is being planned for next year.
Donaldson Group chief executive Andrew Donaldson said: "SMTS is a natural fit for the Donaldson Group. It offers a similar family-owned ethos and has a strong reputation and track record for investment and innovation."
He added: "This is an exciting move for the Donaldson Group, as we venture into the timber frame market at a time when interest in the material has never been higher.
"The use of timber frame is anticipated to double in the next five years as housebuilders turn to modern methods of construction and renewable sources to achieve crucial net-zero carbon targets."
Stewart Milne chief executive Stuart MacGregor said the deal "represents an exceptional outcome for both parties" and added: "We are pleased to have found the right buyer who will continue to invest in the business and its people."
Other timber firms in Donaldson's portfolio include MGM Timber, Donaldson Timber Engineering, James Donaldson Timber.
Since the start of last year it has also acquired Kitchens International, Stonecare, Rowan Manufacturing and Smith and Frater.
Donaldson, which was founded in 1860 by James Donaldson as a timber merchant in Fife, operates throughout the UK and employs more than 1,500 people. It is currently led by the sixth generation of Donaldsons.
According to its last set of accounts, James Donaldson & Sons had a turnover of £268m in the 18 months to September 2020 and made a pre-tax profit of £6.2m. In the year to March 2019, income was £182m with pre-tax profit at £8.2m.