Mayor says capital's housebuilding activity will be badly hit if UK leaves EU without a deal
London mayor Sadiq Khan has repeated his dire warnings about the effect a no-deal Brexit would have on the capital's house building sector.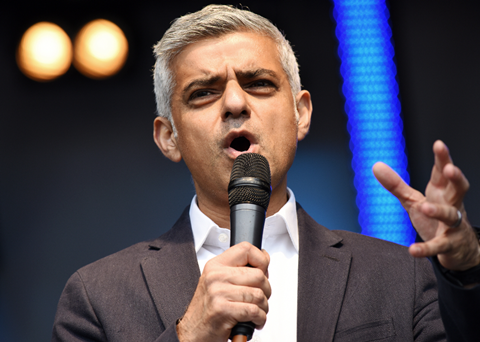 As prime minister Boris Johnson's latest attempts to get his deal with Brussels approved by UK parliamentarians went down to the wire, Khan said leaving the EU without a deal would be "disastrous" for homebuilding in London.
Speaking at mayor's question time this week the mayor (pictured) said: "We know that the capital's homebuilding industry, from architects who design the homes to construction workers who make them a reality, relies heavily on EU nationals.
"We also know the UK is particularly reliant on importing building materials with almost two-thirds of imports being from Europe.
"The imposition of new tariffs, a weaker pound and new costs and delays for goods' clearing customs will cause bill costs to rise, as well as significant disruption to the supply chain."
Khan, who earlier this month said there would be no help from City Hall for firms in the event of a no-deal Brexit, said the uncertainty around the deadline of 31 October to leave the EU, set by Johnson when he won the leadership battle for the Conservative party in the summer, was already affecting the housing industry.
"Our housing association partners have reported that the value of tenders from large, reputable builders have recently shot up in anticipation of our departure at the end of the month. This is due to increasing risk premiums, the cost of transport and warehousing, and in some cases, a predicted shortage of labour.
"Reduced availability of construction materials is another factor in a toxic mix. Builders will simply down tools if schemes become undeliverable. This would undermine London's ability to meet its housing needs in the short term and will present longer-term obstacles for its economic recovery."
Khan claimed that developers were not able to stockpile materials. "Some are stockpiling some stuff in warehousing but it's not possible to stockpile some of this stuff," he added.
The mayor also said when firms imported materials from the EU they were of a certain standard, and that the removal of such standards would be a concern for developers and consumers alike.