Lord Bob Kerslake brought in to consider creating "City Hall developer" to build homes on GLA-owned land
Sadiq Khan has commissioned a review of mayoral bodies' housing delivery as he seeks to fulfil a manifesto pledge to boost the number of homes built on Greater London Authority-owned land.
The mayor of London has announced that former civil service head Lord Bob Kerslake will lead the independent review, which seeks to "improve and streamline housing development" on GLA land. The review will also look at ways of piloting a "City Hall developer".
Khan pledged in his manifesto ahead of his re-election in May to "maximise the number of homes build on land owned by the GLA", although he did not give a figure.
According to a GLA report published last month a total of 11,954 homes have been started on GLA land since 2016/17. A total of 15,454 homes are projected to have been started in total between 2016/17 and 2022/23.
GLA bodies include Transport for London (TfL), the Mayor's Office for Policing and Crime, the Old Oak and Park Royal Development Corporation, the London Fire Commissioner and the London Legacy Development Corporation.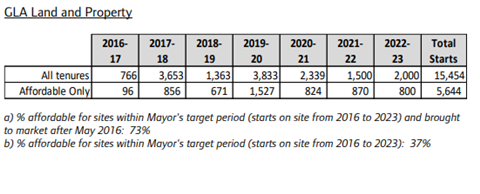 TfL, which owns 5,475 acres of freehold land and 404 acres of leasehold land, is planning to deliver thousands of homes through a new ring-fenced commercial property company.
In July it said it could build more than 46,000 homes if it secures enough government funding to take its net capital funding, including commercial debt, to £2bn. If it were to rely on commercial funding of £400m alone, this figure drops to 13,278 homes.
Khan said: "I'm determined to build on this success to deliver more homes for Londoners. I can think of no-one more qualified than Lord Kerslake to lead this review into how the GLA Group can strengthen its focus on delivering more genuinely affordable homes. I'm grateful to him for agreeing to bring the benefit of his passion and expertise to this subject."
Lord Bob Kerslake said: "London urgently needs more genuinely affordable homes and I am delighted to be asked to lead this review into how the GLA's own arrangements might be streamlined and strengthened"
Lord Kerslake, who also formerly chaired Homes England foreunner body the Homes & Communities Agency, will report findings early next year.
GLA Group and housing development
Transport for London (TfL)
TFL owns approximately 1.5% of London's entire landmass with a total of 5,879 acres of land. The organisation's baseline assumption is that the company can deliver 13,278 homes with commerical debt of £400 million
London Fire Commissioner

Mayor's Office for Policing and Crime

London Legacy Development Corporation

Source: Housing delivery report, Homes for Londoners, September 2021