Mayor of London accuses the government of "blocking the aspiration of London's councils to build."
Mayor of London Sadiq Khan has called on the government to commit to a ten-year funding plan for building more affordable homes in the capital.
Accusing the government of holding back the ambitions of London councils to build more affordable homes, Khan (pictured) called on ministers to "stop blocking the aspiration of London's councils to build."
The comments came as the mayor launched a new report outlining how the government can do more to help the construction of new homes in the capital.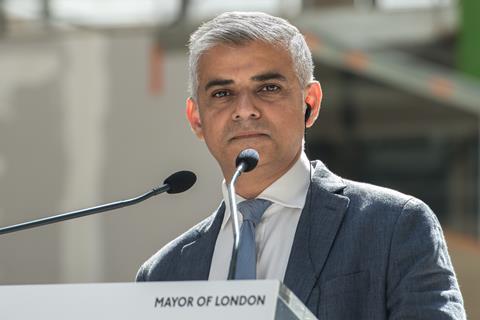 Reforms suggested in the report, titled "Building London's future: The next generation of council homes", include passing new laws to allow councils to buy land more cheaply, earmarking more government-owned land for council housing and committing to a decade-long funding plan for council homebuilding.
In 2018, City Hall received £4.8bn from the government to build 116,000 new homes by 2022, including 10,000 new council homes.
Despite 3,300 new council homes starting in the capital last year - the highest number since 1983 - Khan warned today that meeting his targets would only be possible with the backing of ministers to "give London the funding and powers we need to build new council homes at scale."
Last month, the government announced that it would spend just £4bn on affordable housing in the capital, despite Greater London Authority-backed research suggesting London needs nearly £5bn invested every year in order to meet demand.
Khan added: "There's been huge progress in recent years, but I know we can do more. We've laid the foundations for a new era of council homebuilding to be at the heart of our post-Covid recovery – it is now up to ministers to back us to deliver."
The report describes the challenges faced by councils in building new homes, including acquiring suitable land, a lack of funding following years of austerity, and a shortfall in skills and expertise among some councils which have not embarked on major house building programmes for decades.
Brent council operation director of housing Hakeem Osinaike said: "The need for truly affordable housing in London cannot be overestimated. Councils' waiting lists are far too long and too many households are in temporary accommodation."
London Councils' executive member for housing and planning Darren Rodwell said that new housing had a crucial role to play in supporting the capital's economic recovery, adding: "We're enthusiastic supporters of the government's 'build, build, build' agenda – but ministers could do much more to boost resources for council housebuilding and empower us to deliver affordable homes at even greater scale."
The Ministry of Housing, Communities and Local Government has been contacted for comment.