Property portal says volume of enquiries for new build properties soared in wake of chancellor's announcement
Property portal Rightmove saw a record 8.5 million visits to its website on Wednesday after chancellor Rishi Sunak unveiled a temporary stamp duty holiday.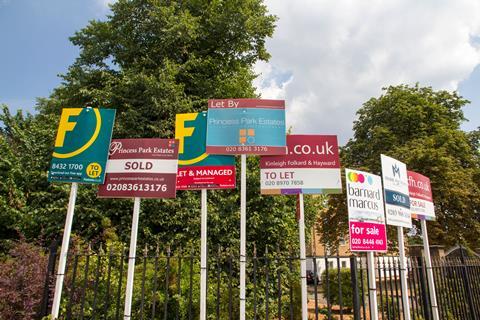 It said this figure was up on the previous record of 7.7 million visits, set the day before, as speculation about a stamp duty holiday grew.
The chancellor on Wednesday announced he was suspending stamp duty on all properties under £500k until March 31 2021 in a bid to boost the housing market. While first time buyers had already benefitted in a reduced stamp duty rate, for existing homeowner the holiday will save as much as £15,000 on the transaction cost of a new house.
Rightmove said that new build housing specifically also saw record demand, with enquiries about new build homes up 21% on the previous record set on June 11. The firm said the number of people phoning and emailing estate agents with specific enquiries about a property also hit a new high, 1% above the June 11 record, and nearly double the figure recorded on the same day in 2019.
The figures from the online property marketing website comes after a widespread welcome from the housebuilding industry to the chancellor's stamp duty reduction.
They also come on the day that the UK's most profitable housebuilder, Persimmon, reported strong demand for homes in the wake of the housing market being re-opened in May. Persimmon said that demand was being buoyed by "increased demand ahead of the end of the current Help to Buy scheme", which is also closing in March next year."
The RICS today also reported a strong bounce back in demand for homes in June.
There remain concerns about the future prospects for the housing market, however, with the Bank of England predicting the sharpest recession in 200 years in 2020. Halifax this week reported its fourth consecutive monthly fall in house prices, of 0.1% in June, while mortgage lenders have drastically reduced their lending to those with small deposits, disproportionately affecting first-time buyers.
Rightmove housing market analyst Miles Shipside said: "There's currently record housing demand but the market also needs the ability for lenders to extend the availability of low deposit mortgages, vital to healthy first-time buyer volumes that help drive the rest of the market. A stamp duty holiday without better mortgage availability isn't really helpful for hard pressed potential first-time buyers who are already mainly exempt from it anyway."
Cenkos analyst Kevin Cammack said that while the stamp duty holiday was "a shot in the arm for the housing market" as a whole, it would in relative terms "more specifically benefit the re-sale market and transactions in general [than] the new build industry which already enjoys the covering support of Help-to-buy and its focus on largely stamp duty-free first-time buyers."
Nevertheless, Greg Fitzgerald, CEO of housebuilder Vistry Group was one who strongly welcomed yesterday's announcement. He said: "We believe this initiative will give customers the extra confidence needed to take the exciting step of owning a home or moving up the property ladder. We have seen that interest from potential buyers has been encouragingly strong and robust week-on-week since the lockdown started to ease, and we believe this move on stamp duty will go a long way towards reinvigorating the market."