Withdrawal of government advice note prompts RICS to look 'carefully' at impact with stakeholders
The Royal Institution for Chartered Surveyors (RICS) has said it will review valuation impacts in the light of Michael Gove's announcements on building safety yesterday.
The housing secretary announced that the government had withdrawn its consolidated advice note, which recommends the use of controversial EWS1 forms on all residential buildings. It is replacing this with PAS 9980, a separate standard developed by the British Standards Institute which aims to ensure a more proportionate approach.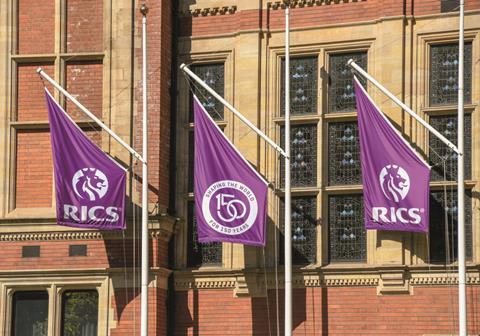 The RICS has previously angered ministers by refusing to update its guidance to recommend that EWS1 forms are no longer used on blocks less than 18 metres in height.
Following yesterday's announcement a spokesperson for the RICS said: "RICS is encouraged to see the new secretary of state proposing bold steps with the interests of leaseholders at their heart. We will consider its impact on valuation practice carefully with stakeholders."
Gove also said that the government "will take the power to review the governance of RICS to ensure that it is equipped properly to support a solution to this challenge".
He added: "Those in the industry who refuse to work with us in good faith to take a more proportionate approach should be clear that our determination is to fix the problem for all those caught up in this crisis."
MORE ON THE ANNOUNCEMENTS
>> Industry figures warn Gove's £4bn cladding levy plan unlikely to work
>> Gove 'to go after' developers not complying with post-Grenfell safety rules
>> Housebuilder shares tank on announcement of £4bn cladding levy
>> Government set to remove controversial EWS1 form advice
However it is not clear what Gove meant by "taking the power" to review the RICS' governance and there is no evidence steps have been taken by ministers thus far to seek powers to review the organisation's governance.
Gove also said that, although there had been difficulties with the RICS in the past in terms of instilling a more proportionate approach into risk assignment, the government is "now on a more positive footing" with the organisation.
Gove said: "On EWS1 forms, we can dramatically reduce their use as a result of the engagement that we have with lenders and with RICS. Again, it will still be the case that, in the meantime — even as we get a more proportionate approach — there will be some 11 to 18-metre buildings where work of that kind will be required, but we absolutely want to reduce it."
A RICS spokesperson said the RICS has "consistently taken a proportionate approach to valuation guidance which is evidence-based and supported by all market participants" and that the use of EWS1 forms is declining.
Several lenders said in the summer that they were waiting for RICS guidance changes before altering their lending practices to meet ministers' wishes.
Separately, the RICS has commissioned the peer and former civil servant Michael Birchard to carry out an independent review of the organisation's purpose, governance and strategy following a governance crisis at the organisation. Lord Birchard's call for evidence closes on 21 January.