Newham Council's housebuilding company to press ahead with Carpenters Estate regeneration after residents vote in favour
A 2,000-home redevelopment of an estate in the shadow of the 2012 Olympic stadium has moved a step closer after residents backed it in a ballot.
Newham Council, through its housing company Populo Living, will now press ahead with plans to regenerate the Carpenters Estate which has long been earmarked for demolition and redevelopment. Nearly three-quarters of resident voters (73%) backed the plans, which involve 2,000 new homes being built and the refurbishment of 314 existing units. Nearly 400 homes, including one of the estates three tower blocks, will be demolished.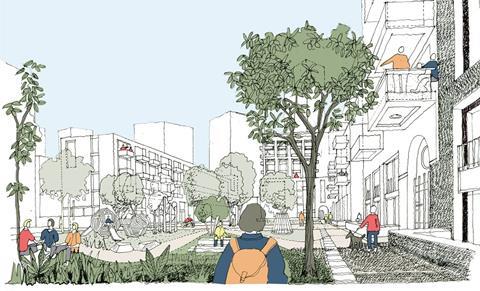 A joint venture involving Tibbalds Planning and Urban Design and CampbellReith will work with the council to co-produce a masterplan and design proposals for the estate ahead of an outline planning application in the spring. Metropolitan Workshop and Proctor & Matthews Architects are also collaborating on the masterplan and leading the design of the early phases.
A Newham council spokesperson said that more than half of the new homes will be for social rent.
The 28-acre Carpenters Estate, built between 1968 and 1972, is surrounded by Queen Elizabeth Olympic Park, Westfield Stratford shopping centre, Stratford High Road and Stratford station. It consists of low-rise buildings and three tower blocks, two of which will be retained in the new scheme.
The plans include new community and sports facilities. green areas, play areas and office and retail space.
A planning application for the first phase of the scheme, designed by Proctor & Matthews and ECD Architects, has been submitted to refurbish one of the estate's towers to improve the energy performance of 136 homes.