Latest data shows 243 buildings still have ACM cladding, more than three years on from Grenfell fire
Two-thirds of the 458 buildings identified as having dangerous ACM cladding systems have not yet completed work to remove and replace the cladding, according to the latest official data.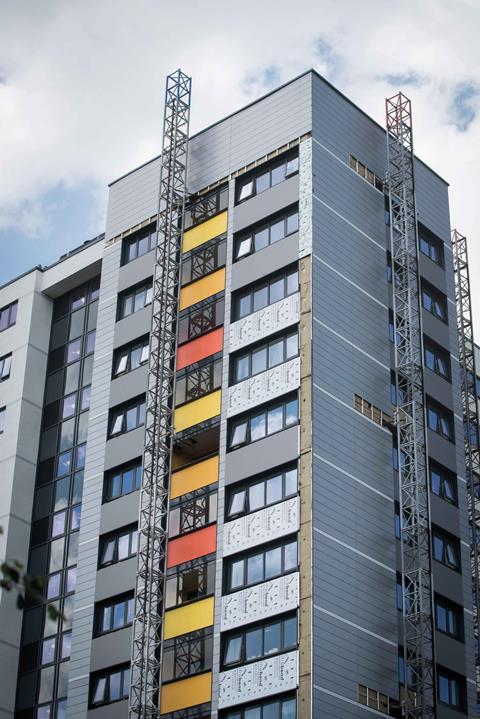 The latest monthly data release from the government's building safety programme said that work on 158 blocks had been completed, equivalent to 34% of all the buildings on which dangerous ACM systems had been identified – the same number as last month.
This is despite the fact that last month marked three years since the deadly fire at Grenfell Tower which brought the danger of ACM cladding to public and government attention. Last year former housing secretary James Brokenshire said that "other than in exceptional circumstances", he expected all buildings to have completed remediation work by June this year.
The figures mean that there remain exactly 300 buildings where remediation work is unfinished, including five hotels where the remediation plan is still unclear, and 135 where physical work to remediate the blocks has not even started.
In total, 243 blocks – more than half of the total – still have the ACM cladding in place, more than three years after the danger of the material was made clear.
In February the government followed through on a promise to "name and shame" those landlords that still did not have plans in place to remediate ACM-clad buildings, naming five landlords where it said "at least one of their buildings does not yet have a plan in place" to complete cladding removal.
The new figures come weeks after the government published its Building Safety Bill, aimed at bringing in a new regulatory system designed to ensure that the failings which led to the Grenfell disaster, which claimed 72 lives, are never repeated.
In March the housing select committee of MPs launched an inquiry into the slow pace of remediation of ACM-clad blocks, while in June the National Audit Office criticised the govrnment's record. The covid crisis has worsened the situation, with many of the remediation projects stalling during lockdown, despite calls from government for contractors not to down tools.