Body publishes latest annual checks on housing providers' financial stability
The Regulator of Social Housing (RSH) has downgraded four housing providers' viability gradings as it publishes the first set of results from its annual stability checks.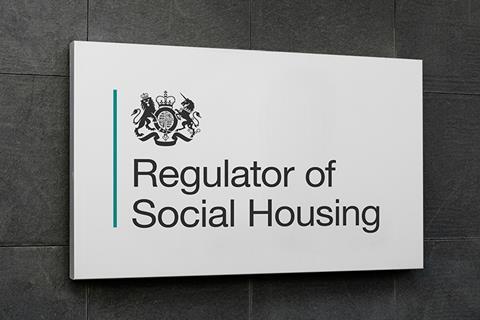 The RSH has issued housing providers with first round of results from its annual financial stability checks
The RSH has downgraded Curo Group, Golding Homes, Phoenix Community Housing Association and Worthing Homes from viability grading V1 to V2.
Providers are compliant with the RSH's viability standards if they have either V1 or V2 grades.
V1 means the provider has the financial capacity to deal with a large range of adverse scenarios. V2 means that the provider has somewhat less capacity to respond to adverse events but remains financially viable.
All four housing providers have retained G1 gradings for governance.
Curo Group is a not-for-profit housing association based in Bath, which owns and manages 13,000 homes. Golding Homes owns 8,000 homes and is based in Kent. Phoenix Community Housing Association is a South London-based not-for-profit housing provider with more than 6,000 homes. while Worthing Homes owns over 3,900 properties in the Sussex coastal area.
See also >> Regulator of Social Housing promises 'proportionate' use of new powers as it opens consultation
See also >> Homes built by housing associations for sale to drop 25% over five years, says RSH
The RSH published annual stability check results on 20 other housing providers, all of which retained their existing governance and viability gradings.
More annual stability check results for private registered providers with 1,000 homes or more will be published between now and January 2024.
The RSH conducts stability checks on a yearly basis, which involves examining financial information submitted by housing providers and assessing their financial robustness and evidence of any significant changes in risk profile.
In response to the organisation's viability grading change from V1 to V2, Golding Homes said: "This is something many of our sector peers have experienced as a direct result of the current financial climate and economic pressures that we're operating in."
It added that Golding Homes has an adequately funded business plan and is forecast to continue to meet its financial covenants.
Steph Goad, chief executive of Golding Homes, said: "We understand this regulatory decision is down to the wider external environment and current economic pressures. We remain committed to investing in our existing homes, providing much needed new affordable homes and improving services in line with our corporate plan ambitions. We're also making sure our organisation is fit for the future and well placed to respond to changing consumer regulations."
On the regrading, Phoenix Community Housing's chief executive, Denise Fowler, said: "We are pleased that the Regulator has confirmed that Phoenix Community Housing remains compliant with its standards. We are pleased that we retain the highest rating for governance, which we believe demonstrates the strength of our community gateway, resident-led model. The V2 financial viability rating reflects the financial pressures facing the sector and Phoenix's ongoing commitment to investing in our homes and services to meet our residents' needs, as well as delivering high quality new homes to help meet the housing crisis in London."
Curo Group stated that as a housing association with a development arm, higher interest rates, and the rise in material and supply chain costs are putting additional pressure on its financial plan.
Victor da Cunha, Curo's chief executive, said: "While we're naturally disappointed to be regraded, we recognise this as a reasonable assessment – this is a symptom of the difficult financial context housing associations are operating in.
"This is the direction of travel for the sector, and one which the regulator has been indicating for some time – last year 19 housing associations were regraded, and we expect more will follow next year as the sector continues to face challenges.
"Curo remains financially sound and we will continue to stay alert to the uncertainty of the economy and to manage our budgets closely."
Worthing Homes has been approached for comment.


Results from the RSH's annual stability checks by provider
| Provider | Gov | Via | Route | Explanation |
| --- | --- | --- | --- | --- |
| | G2 | V2 | In Depth Assessment | Changed basis for governance and viability grades |
| | G1 | V1 | Stability Check | Confirmation of existing grades |
| | G1 | V2 | Stability Check | Confirmation of existing grades |
| | G1 | V1 | Stability Check | Confirmation of existing grades |
| | G1 | V2 | Stability Check and Reactive Engagement | Viability regrade - V1 to V2 |
| | G2 | V2 | Stability Check | Confirmation of existing grades |
| | G1 | V2 | Stability Check | Confirmation of existing grades |
| | G1 | V2 | Stability Check and Reactive Engagement | Viability regrade - V1 to V2 |
| | G1 | V2 | Stability Check | Confirmation of existing grades |
| | G1 | V2 | Stability Check | Confirmation of existing grades |
| | G1 | V1 | Stability Check | Confirmation of existing grades |
| | G1 | V2 | Stability Check | Confirmation of existing grades |
| | G1 | V2 | Stability Check | Confirmation of existing grades |
| | G1 | V1 | Stability Check | Confirmation of existing grades |
| | G2 | V2 | Stability Check | Confirmation of existing grades |
| | G1 | V2 | Stability Check | Confirmation of existing grades |
| | G1 | V1 | Stability Check | Confirmation of existing grades |
| | G1 | V2 | In Depth Assessment | Changed basis for viability grade |
| Phoenix Community Housing Association (Bellingham and Downham) Limited | G1 | V2 | Stability Check and Reactive Engagement | Viability regrade - V1 to V2 |
| | G1 | V2 | Stability Check | Confirmation of existing grades |
| | G1 | V1 | Stability Check | Confirmation of existing grades |
| | G1 | V1 | Stability Check | Confirmation of existing grades |
| | G2 | V2 | Stability Check | Confirmation of existing grades |
| | G1 | V2 | Stability Check and Reactive Engagement | Viability regrade - V1 to V2 |