Housebuilder is partnering with regeneration specialist Menta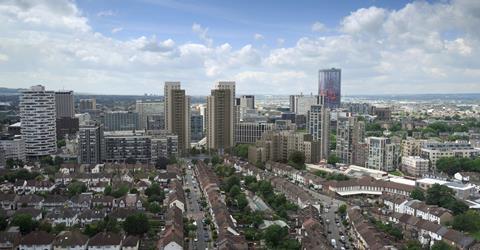 Redrow is set to start work next month on around 500 homes next to East Croydon railway station in south London, as the second phase of a key regeneration scheme in the area gets underway.
The housebuilder is working on the £200m Morello 2 scheme, which will include 118 affordable homes, with privately-owned regeneration specialist Menta.
The homes will be housed in two 25-storey towers (pictured, centre) and a separate building ranging between five and nine storeys.
The first phase of the Morello development, on the site of a former Bank of America office block also next to East Croydon railway station, has already delivered around 300 homes. The latest element of the scheme was approved by Croydon council nearly two years ago.
Plans for phase two include a new pedestrian footbridge from East Croydon railway station, commercial and retail space, play areas and landscaped grounds.
The scheme will be a near-neighbour of the 136m-tall, 546-apartment 101 George Street tower, built by Tide Construction and Greystar, which is set to be the world's tallest modular residential building.