Former NBS boss says failure to get new system running before end of year deadline could be 'devastating'
A failure to get the new post-Brexit system for certifying building products up and running by next year could be "devastating" for the construction industry, the former boss of a major products specification body has warned.
Richard Waterhouse, who was chief executive and chief strategy officer for the NBS until last year and is now a spokesperson for the firm, said getting the new marking system ready in time is "not achievable".
Waterhouse's warning comes amid growing concern over materials shortages in the industry given a strong bounce back from the covid crisis.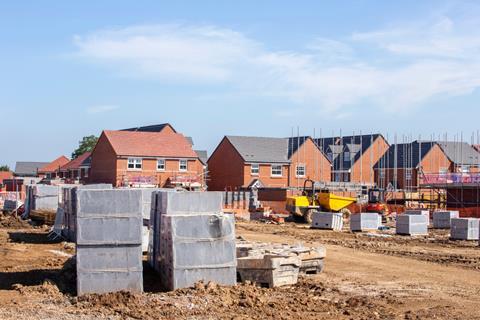 The government is currently in the process of switching from the Europe-wide CE marking for certifying construction products to the new UK-only UKCA marking as part of a regulatory divergence agreed in last December's Brexit deal.
The UK is currently in a transition period, which means both the CE markings and the new UKCA markings can be used until 31 December this year.
But from 1 January, all products which previously required a CE mark, which includes structural steel, insulation, glass and cladding, will need to be retested to obtain the UKCA mark.
It means that huge amounts of construction products will need to undergo testing – which can cost up to £50,000 per test – for the new marking between now and the start of 2022, despite the limited capacity of testing facilities in the UK.
For certain products, such as high specification glass and construction adhesives, there are no facilities to carry out the necessary assessments in the UK.
Waterhouse, who headed up the NBS for over 16 years before its sale to Swedish software provider Byggfakta Group last November, said that the "only sensible" option would be to extend the transition period.
"You have to question whether any analysis was done on the volume of testing required and the capability and capacity of testing organisations to do that.
"And I think anybody looking at that would say actually that's not achievable. How did the government expect us to do this?"
He warned that the government runs the risk of causing "massive" price hikes for construction materials and preventing projects from proceeding if the deadline is not extended, calling the situation a potential "self-inflicted wound".
"We should all feel quite alarmed by this," he added.
One major contractor told Housing Today's sister publication, Building, that there were "undoubtedly concerns" about the issue but that it was too early to tell what impact it would have.
It added: "The lack of clarity and clear direction means we can't really plan mitigation measures effectively or begin to estimate the impact on project planning and delivery."
Waterhouse's warning comes after Construction Products Association chief executive Peter Caplehorn saidhe had spoken to the construction minister Anne-Marie Trevelyan last month urging her to extend the transition period.
Caplehorn said that Trevelyan had not commented on the details of his concerns but had said that her team would look into the points raised.
He admitted that the worst-case scenario would be that large parts of the industry would find themselves unable to operate because it would "rapidly get to a point where there would be significant shortages of key commodities".
Both Trevelyan and the Department for Business, Energy and Industrial Strategy declined to comment.
A spokesperson for the Ministry of Housing, Communities and Local Government did not rule out extending the transition period and did not comment when asked what plan there was for testing products which the UK has no facilities for, or if there is enough time to build the required capacity.
The department said in a statement: "We are working closely with businesses, including conformity assessment bodies, to ensure products can continue to be placed on the market once unilateral recognition of CE marking ends.
"We will update our guidance in due course to provide further clarity on capacity and capability to test certain products in the UK, and what this means for businesses.
"Businesses should continue to prepare for the end of recognition of the CE mark in Great Britain."