Great Marlborough Estates buys site from rival Lendlease
Developer Great Marlborough Estates has announced plans to build a 137-home scheme on a one-acre site in Chiswick, London.
The firm, co-owned by Grant Lipton, son of property mogul Stuart Lipton, has agreed the purchase of the site from developer Lendlease.
It plans to revamp and extend the existing office tower on the site, Empire House, into 66 apartments, with 46 apartments and four townhouses built at Essex Place, and 21 more flats on the corner of Essex Place and Acton Lane.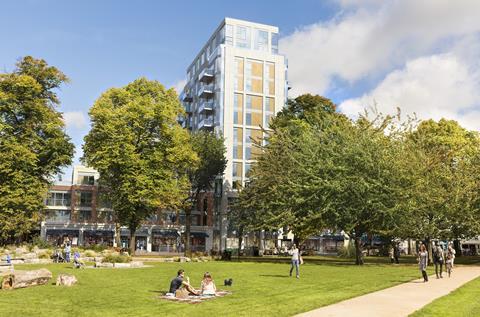 The scheme will be designed by architect Assael, with the firm saying that each dwelling will benefit from either a garden or balcony "in line with changing consumer tastes post lockdown".
Great Marlborough Estates is also engaged in the Regent's Crescent and Vauxhall Cross Islands schemes in the capital.
Grant Lipton set up the firm with former fund manager Dean Clifford in 2006. Stuart Lipton is a non-executive director.