Experts say government proposal could worsen current impact, with L&G, Swan and Lendlease having already backed away from using timber
Experts pioneering the widespread use of structural timber have expressed fears that government plans to further tighten the ban on combustible material on the external walls of buildings will compound damage already done to the sector.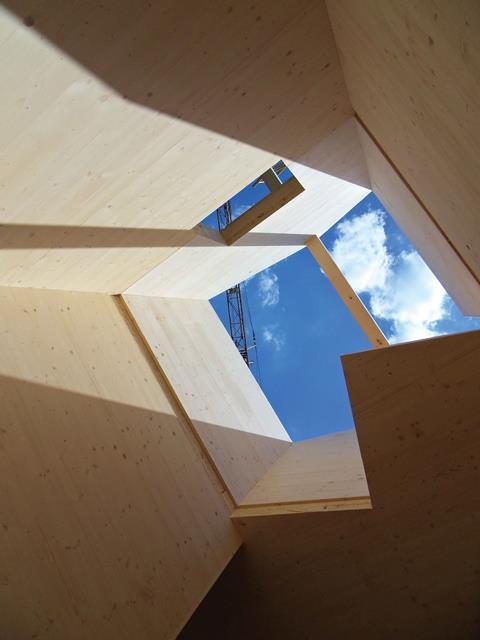 They said the UK risked losing its leadership position in the use of materials such as cross-laminated timber (CLT) and glulam, which fall foul of the ban but have a much lower carbon footprint than traditional build materials such as concrete, steel and masonry.
The concerns come after the government this week consulted on plans to reduce the height at which the ban comes into effect from 18m to 11m, potentially affecting a far greater number of residential buildings. It introduced the ban in December last year as part of measures to address fire safety in the wake of the Grenfell Tower tragedy.
Nic Crawley, associate at architect firm AHMM, who has advised on a number of CLT buildings, said the current ban had already led one client to ditch CLT mid-design stage and return to traditional materials.
He said: "If this is adopted following consultation … the negative 'side effects' [of the existing ban] would certainly be compounded."
Crawley said that while many clients were still enquiring about using CLT, the ban had led AHMM to specify other forms of construction and materials when it previously would have recommended structural timber.
Meanwhile, Anthony Thistleton, co-founder of "timber-first" architect Waugh Thistleton, said the UK was risking the loss of its global leadership position in sustainable building materials such as CLT and glulam.
While he said his practice was still receiving many orders, particularly for commercial buildings unaffected by the regulation, the ban had nevertheless impacted the market. "My fear is the UK is giving up its leadership position on this. Just when the UK's prominence was being established, we've had this regulation constraining the sector."
Thistleton said the regulation banning combustible material in high-rise residential was "not fit-for-purpose", and hence welcomed the review – despite the fact the consultation does not propose addressing the impact on structural timber products.
He said: "It is an opportunity to make the case and be heard by government. It's got to be re-looked at in the long term."
Thistleton said the ban should be amended to allow fully-tested external wall make-ups containing combustible material to be permitted if proved to be safe, while AHMM's Crawley said the government should distinguish between structural wall parts and the cladding on the outside.
The concerns come a week after the decision by a modular housing pioneer, housing association Swan, to ditch CLT for its new apartment product because of the so-called "combustibles ban".
Last week, London and South-east-based Swan, which set up a 400-homes a year modular housebuilding factory in 2017 to deliver a 3,500-home development pipeline, told Housing Today the decision to switch to steel followed the government's ban on combustible materials in the external walls of homes more than 18m in height.
AHMM's Crawley said there was no alternative to using timber in the long term if the government wanted to move to zero carbon. "Timber is a low-impact, renewable material that locks carbon away, effectively offsetting the use of other higher-impact materials. In this respect, it is unique for a high-performance, well-established material that is available at scale. In terms of lower-carbon construction, there are no other effective or available alternatives," he said.
Swan's decision to drop CLT for its pipeline of apartments – it will carry on using the technology for low-rise houses – comes after similar decisions by developers L&G and Lendlease.
Swan also defended CLT's performance in fires, with a spokesperson saying it still believed the material to be safe.
The spokesperson said: "The core continues to provide a predictable period of fire resistance. As an industry, we welcome any change that would reduce fire; however, we believe that CLT is an inherently safe building material."
Thistleton said: "There is a consensus that CLT is safe in fires. In many senses, it is a safer structural material than steel, which can melt in fire."