Housebuilder's customers will be able to hold back an average of £3,600 to deal with snags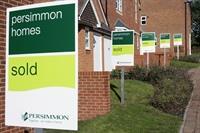 Housebuilder Persimmon is to launch a retention scheme for its customers which would see an average of £3,600 held back by a homebuyer's legal team if faults are identified at the point of purchase.
The firm is to draw up a new standard contract which could see 1.5% of the total home value, equating to around 6% of the build fabric costs, withheld by the buyer until any snags are fixed.
Persimmon, which says it is the first major UK housebuilder to introduce such a scheme, said that based on its current selling prices the retained amount would be approximately £3,600 per home.
Last year the firm completed 16,449 homes at an average selling price of £215,563, and posted a pre-tax profit of £1.1bn.
It said it expected the new policy to be in place by the end of June.
Major housebuilders have been dogged by reports of poor quality in recent years. Last year residents in a block of flats built by Persimmon Coventry had to leave their homes while remedial work was done to shore up the building.
And in 2017 Bovis had to set aside £7m to deal with a torrent of snagging complaints from buyers of its properties.
Dave Jenkinson, Persimmon's chief executive, said the housebuilder had heard the message that it needed to "raise its game" in terms of customer care.
"We are now accelerating the pace of change through the introduction of a contracted retention which will give homebuyers far greater satisfaction at the completion of the purchase."
Jenkinson, who became Persimmon's chief executive in the wake of Jeff Fairburn's departure last year following a slew of bad publicity around the latter's £75m pay package, said the firm was "determined that the [housebuying] experience is not overshadowed by teething problems. Providing a homebuyer's retention is an important step towards achieving this."