Stop on construction follows Barratt and Taylor Wimpey decision, while Unite Group says it will continue to build
Persimmon, Countryside and McCarthy & Stone have followed the lead of rival housebuilders Barratt and Taylor Wimpey, by confirming they will shut down their sites in response to the drastic 'social distancing' measures introduced to tackle the coronavirus outbreak.
The UK's most profitable housebuilder, Persimmon, said all of its sales offices will be closed from tomorrow until further notice and that the process of shutting sites had begun.
The decisions come in spite of the government's controversial insistence that construction sites can stay open.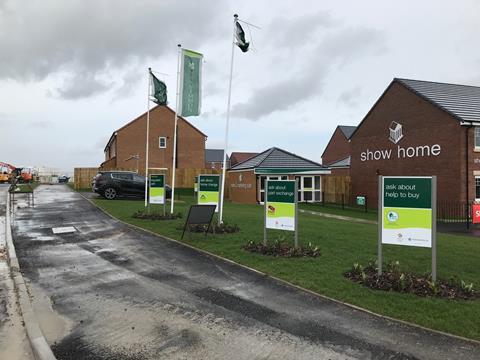 In an announcement to the City this morning, Persimmon said: "All Persimmon regional offices will also close, with only a skeleton staff to facilitate the wider workforce working from home.
"Construction sites are commencing an orderly shutdown with only essential work taking place which will be focused on making partly built homes safe and secure and where failure to complete the build could put customers in a vulnerable position."
The decision means the UK's top three housebuilders, with a combined production of just under 50,000 homes, have all said they plan to down tools in response to the virus outbreak.
The firm also said it was cancelling an interim dividend payment next week worth 125p a share while its planned annual, final dividend payment of 110p per share, due to be made in July, was being postponed.
Rival Countryside also said in an update to the City that it "had decided to close and suspend all construction works on its sites", alongside shutting sales offices.
It added that it, like other listed housebuilders, had suspended its dividend payments, and was cancelling any previous financial guidance on its perofrmance. It had also begun discussions with its lenders about drawing down further cash, should that prove necessary, it said.
Meanwhile, retirement specialist McCarthy & Stone said work will stop on nearly all of its sites.
It added: "All build activity is being safely paused across our entire development programme with the exception of certain specific sites which are close to completion."
The firm also announced that more than 300 newly completed apartments in unoccupied developments had been offered to help the government and local authority care providers to address the acute shortage of beds for older people during this period.
And it said that its board and wider leadership team were taking a 20% pay cut from April 1 until further notice.
Bellway has also joined the ranks of housebuilders closing their sites, which also includes Galliard Homes, Hill and L&Q.
Jason Honeyman, chief executive of Bellway, said: "We closed all of our newer developments last week and have started the process of closing our remaining sites. We expect that this will happen by lunchtime on Friday."
In its interim results announcement for the six months to the end of January, the firm said there was a significant risk to production capability and customer demand in the weeks and months ahead.
It added: "Our priority is the health and wellbeing of our employees, subcontractors and customers and we are making every effort to ensure that the group's operating divisions, construction sites and sales offices are as safe as possible.
"There is also a threat to liquidity across the wider economy and the Board is therefore taking immediate action to preserve the strength and resilience of the balance sheet. This includes a pause in new site acquisitions and a reprioritisation of production expenditure to focus on plots which are in the later stages of construction programmes."
The firm has also made the decision to postpone the payment of an interim dividend until later in the calendar year, when there is more certainty with regards to the economic outlook.
Likewise, student accomodation developer Unite Group said in a city update that so far it had "not seen any disruption to activity levels on our developments", and that this would only happen if the government tightened restrictions.
The decisions come after Taylor Wimpey chief executive Peter Redfern yesterday said the builder had made a "moral" decision to shut sites despite government advice they could remain open, given how difficult it was to ensure social distancing on building sites. Likewise, L&Q said it had decided to shut sites after experience showed them that social distancing was "extremely difficult to achieve".