Housing association proposes 3,500 homes in the first phase of old Ford stamping plant scheme
Peabody has revealed the detailed plans for the first 935 homes of 3,500 to be built on the site of the old Ford stamping plant in Dagenham.
The housing association gained outline planning permission for the 3,500 homes in March and aims to start this first phase of the development on the former car factory site in spring next year.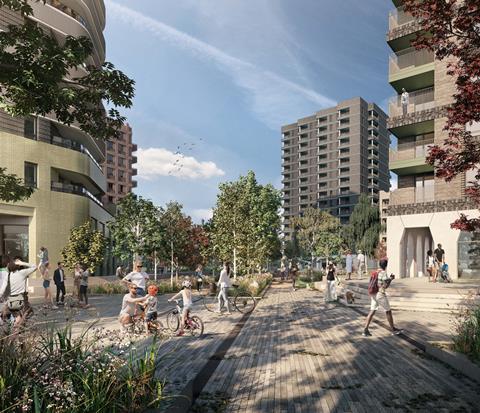 A new 5-acre park will be built alongside the houses, which will be 50% affordable tenures for local people to rent and buy.
Architects PRP, Pitman Tozer and Lyndon Goode are working on this first phase, and HTA is leading on landscaping and public realm.
Charity Earthwatch has already created a forest of 600 trees designed to grow into a mature landscape on the site, where women fought for equal pay through strikes in 1968 and 1984.
Peabody's development manager for the scheme Victoria McAdam said: "It's been a privilege to work with a strong female led design team on a site that was pivotal to the women's rights movement and paved the way for the Equal Pay Act over 50 years ago. It's really important that we recognise the women of Dagenham and tell their stories through our designs".
Senior partner at PRP and mayoral design advocate Manisha Patel said: "Working with Peabody and the wider design team has been incredibly rewarding. Phase 1 will be the stepping stone in creating a contemporary place that reflects the history and heritage of the site with high-quality much needed open space and sustainable buildings working in synergy to support healthy lifestyles for its future residents."
The first phase of the scheme will be in the south-west corner of the site, next to Dagenham Dock rail station and will includes 10 acres of public realm and landscaping with 15,000 sqm of playspace. It will also have 1,600sqm of non-residential space with places for people to meet and spend time together.