Annual accounts show major London-focused social landlord significantly slowed development last year
Major developing housing association Notting Hill has taken a £10m impairment in its accounts because of concerns over a likely fall in the value of the homes it is building for sale.
The charge, resulting from an estimated reduction in the value of its homes under construction by 15% in the wake of the covid crisis, came as the 66,000-home social landlord reported a sharp fall in housebuilding starts in annual results for the year to March 2020.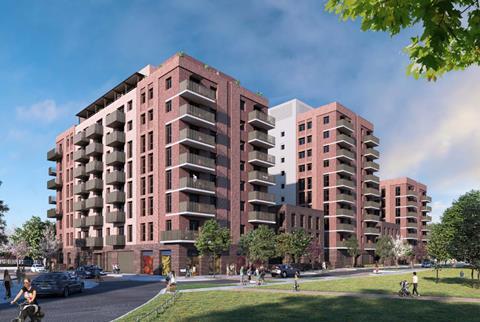 The London-based association behind the 2,000-home Grahame Park regeneration scheme (pictured, left) said that it had written down the value of homes being built for sale after experiencing delays selling houses in the wake of the covid lockdown, and amid speculation of house price declines in the capital of up to 10%. In its annual report it said: "there are already delays in sales and there will be additional holding costs before we can sell homes to shared owners and others which we estimate may cost us up to 5% of selling value."
Given that, it said it had "reassessed the net realisable value of our work in progress for homes being constructed for sale and reduced it by 15%". This had resulted, where this reduction took the value below the break-even point of schemes, in the write down of £10m.
The write down comes despite evidence of strong growth in house prices nationally since lockdown restrictions on home moving were lifted in England in May. The Nationwide reported yesterday that prices rose by 2% in August and had now made up for all of the initial declines when the covid crisis first hit.
Notting Hill Genesis had already reined in its development programme significantly in 2019/20 prior to the covid outbreak. It said the number of homes it started work on in 2019/20 dropped by more than a third to 665 from 1,018, while its total spend on new housing fell by 28% to £468m.
The number of homes it completed fell less sharply, by just 7%, but within this the number of homes built for shared ownership and market rent dropped substantially, by 37% and 45% respectively.
The landlord, formed from the merger of London associations Notting Hill and Genesis in 2018, also revealed that it ended the year with 610 unsold homes on the books, a slight increase on the 605 recorded last year, and reported a surplus of £98m, down from the £104m recorded last year, on turnover of £550m.
Notting Hill chairman Ian Ellis said the organisation had had a successful year in "difficult and uncertain conditions". He said: "In November 2018, we had reviewed the speed of sales and decided to slow down our development programme, which led to a reduction in our total spend on new housing".
Kate Davies, chief executive of the organisation, said: "There are still tough challenges, particularly around sector-wide issues such as building safety, a difficult sales market and responding to the Covid-19 crisis, but we have put ourselves in a much better position to meet those challenges head-on thanks to the changes we have made during the integration process [of Notting Hill and Genesis]."