But the private housing repair and maintenance fell by 2.4%, according to ONS figures
Private housing new work increased by 5.5% in November compared to the previous month as an easing of material shortages and unseasonably mild and dry weather put boosters under the sector.
New ONS figures show the wider construction sector saw the highest levels of output since September 2019, with a 3.5% month-on-month rise reaching 1.3% above the levels seen in February 2020 just before the onset of the first covid lockdown.
But private housing repair and maintenance was down by 2.4% (£49m) in November compared to the previous month. The monthly growth in output for private housing new work represented a £160 million increase in monetary terms.
The figures reflect general improvements in supply chain bottlenecks for construction materials following the peak of the delays last summer.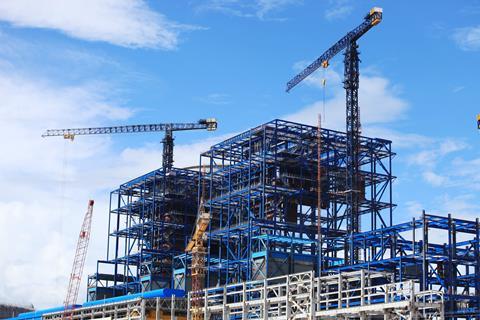 The number of businesses which reported having to change suppliers or that were unable to source materials, good or services dropped from 35% in late October to 26% in November.
Meanwhile, the number of firms reporting no disruptions to procurement within the UK was up by 5% in November.
See also>>
The Construction Leadership Council said in late November that the availability of construction products had improved in most UK regions.
But it warned that UK manufacturers were at full production capacity, while issues still remained with the supply of bricks, blocks and roofing products including timber battens and concrete roof tiles.
Compared with October 2021, output across the construction industry in November was up by £496m with eight out of nine sectors seeing a month-on-month increase.
The figures showed a 5.7% jump in new work compared to October was solely responsible for the monthly increase, as repair and maintenance saw a small dip of 0.2%.
But compared to February 2020, new work was still 1.6% below pre-pandemic levels while repair and maintenance was nearly 7% higher.
Performance of different sectors compared to February 2020 was mixed, with infrastructure being some 49.3% above while the private commercial sector was still struggling, at 28% below despite the easing of covid restrictions last autumn.
New work in infrastructure compared to October last year was up by 11.4% (£286m), the strongest growth for the sector since May 2020 with the ONS saying anecdotal evidence pointed to a strong contribution from renewable energy projects and road and rail schemes.
The wider economy in November surpassed pre-covid levels for the first time after GDP rose by 0.9% in the month, higher than the 0.4% predicted by economists.