Beauty advocate Nicholas Boys Smith accused of piloting "Trojan horse" for planning deregulation
Planners and architects have hit out after the man appointed to set up the government's new housing design advisor has expressed his support for the government's controversial policy of expanding permitted development rights.
In the second part of an exclusive interview with Housing Today, Nicholas Boys Smith, former chair of the Building Better Building Beautiful Commission, and now chair of the advisory board overseeing the setup of the Office for Place, also put his support behind the government's controversial planning reform agenda contained in last year's white paper.
Housing architect and former Riba president Ben Derbyshire said his comments indicated the commission was actually "a Trojan Horse" for radical reform of planning, while others said it was "perverse" to expand permitted development while claiming to be committed to beauty.
They were responding after Boys Smith told Housing Today that opposition to the government's expansion of PD rights to convert commercial buildings to homes without planning permission was "indefensible" given the current housing crisis.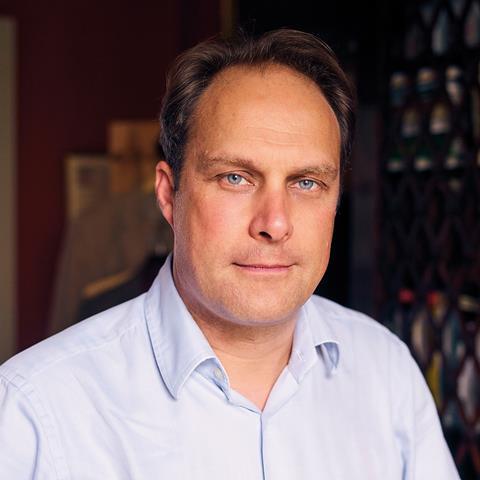 Boys Smith (pictured left), who confirmed that he has previously run as a Conservative Party parliamentary candidate and was a "junior" special advisor during the Major government, said: "The idea that it's possible to micro-manage what happens to every shop is I think for the birds.
"I think it's 17% of shops empty now. When you've got a housing challenge I think it is indefensible to be supporting a system that is allowing that high level of vacant use."
His defence of permitted development comes despite the fact Boys Smith's own "Beauty" commission last year sharply criticised the use of PD, and said the use of permitted development should be dependent on having "meaningful local standards of design and placemaking" attached to them.
A government-commissioned review of PD rights published last year found they produced worse quality housing under a range of criteria, with many built far below space standards, albeit the latest raft of PD rights include safeguards over size of units and natural light.
Boys Smith also denied that the government's white paper planning reforms, which have been characterised as a "developers' charter" by the Labour Party, were deregulatory in nature.
He said they were simply "better regulation" needed to ensure that "good ordinary" schemes were not tied up in red tape. "This is not a smokescreen for carpeting over the country with boxes dumped in fields. I don't think anyone who spends any time with me could think [that]", he said.
The white paper, on which the government is to set out next steps this autumn, proposed introducing a form of zonal planning, in which areas zoned for "growth" would benefit from automatic outline planning permission.
But Ben Derbyshire, previously a supporter of Boys Smith's "Beauty" commission findings, said the commission "has turned out to be a Trojan Horse that threatens the planning system from within.
"The proposed planning reforms are undermining because after years of austerity there are inadequate resources to implement them and the front-loaded work to create new zoned local plans and design codes will be skimped.
"In the end one is forced to the reluctant conclusion that 'Living with Beauty' concealed the political intentions of those who believe less in democratically accountable planning.
"Anyone who has read this month's new permitted development rights enabling conversion of shops to homes will have no difficulty imagining just how badly this could go. Our struggling high streets need planned mixed use, not a free for all."
Ben Clifford, associate professor in spatial planning at UCL, and author of the government-commissioned assessment of permitted development, said Boys Smith was wrong to say it wasn't possible to govern change of use to residential through planning permission. "Saying we will promote high quality design through design codes and better local plan processes, whilst exempting a large and growing amount of development from such requirements is perverse," he said.
Hugh Ellis, policy director at the Town and Country Planning Association, criticised Boys Smith's apparent support for the "shameful" expansion of permitted development which he said was "damaging people's lives". He said: "There is no defence for the rapid expansion of PD. It will fragment high streets and make positive local regeneration impossible to implement."
The controversy comes amid reports the government is planning to drop elements of its white paper proposals, which include proposals to set up "growth" zones with automatic outline planning permission, in the face of significant backbench opposition to the reforms.
Last month housing secretary Robert Jenrick backtracked on the white paper's call for "root and branch" reform of the planning, telling council leaders there was "no need to rip up the system", after the Conservative's shock defeat in the Chesham and Amersham byelection, widely blamed on unhappiness over the proposals.
In addition, Jenrick has confirmed the government is to assuage concerns by looking at bringing in "use it or lose it" powers to force developers to build out housing sites more quickly. The Times reported last week that ministers are considering imposing a "sunset clause" on the build out of large sites.
Former prime minister Theresa May has said the government's reforms will lead to the "wrong homes in the wrong places", while former Tory leader Lord Hague compared the reforms to the poll tax, with up to 80 backbenchers reported to be mobilising against them.
Last year opposition from backbench Tories forced the government to backtrack on the "standard method" used to calculate local housing need, and to introduce space standards into homes approved via permitted development.
Read the second part of the exclusive interview with Nicholas Boys Smith, click here.