NHBC figures for the second quarter show build rates soaring for detached and semi-detached homes
The number of new home starts hit a 14-year high in the second quarter of the year, according to the latest figures from warranty provider the NHBC.
The organisation said that 46,452 homes were registered with the body between April and June – a process which happens as construction work starts – the highest figure for any quarter since the 2007 global financial crisis, and the latest evidence of the scale of the post-pandemic resurgence in the market.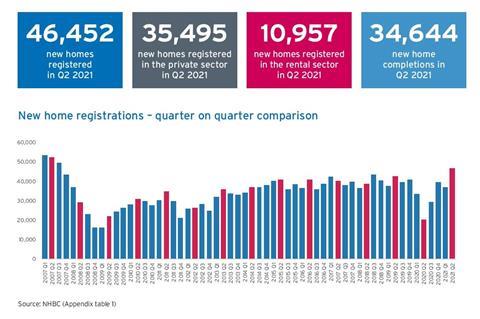 The figure represents a rise of a quarter on the first three months of the year, and is more than double the number of registrations seen in the equivalent pandemic-hit quarter in 2020.
At the same time the organisation said housing completions rose to 34,644, which is three times the figure from the same quarter last year, in which the first lockdown hit, albeit still well below pre-pandemic highs seen in 2019.
The NHBC's figures, which cover around three quarters of the new-build market, showed the dramatic growth in registrations was most noticeable in the north and midlands, and for detached and semi-detached properties.
In each of Scotland, the North east, the North west, the West midlands and Northern Ireland, registrations in the last quarter were more than three times the level seen in the same quarter in 2020.
The figures show the growth in registrations has been almost entirely driven by an increasing output of detached and semi-detached properties, with the number of apartments being built still below the pre-pandemic level, and construction of terraced housing relatively unchanged.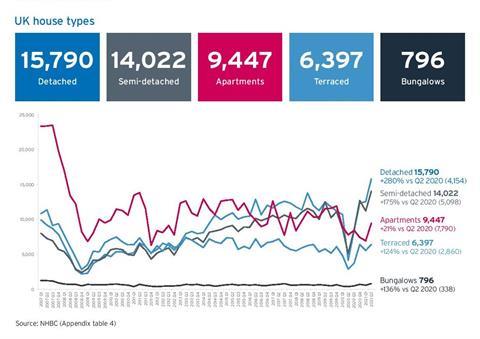 Both detached and semi-detached house construction are now at levels exceeding that pre the global financial crisis, and made up almost two thirds of all registrations in the period.
NHBC chief executive Steve Wood said the figures showed the "remarkable recovery" made in the house-building industry since activity largely stopped in April and May last year. He said: "Despite the combined effects of the pandemic and Brexit causing labour shortages and some disruption to the supply of materials, the outlook for the medium term is a positive one. Demand for home ownership is holding strong alongside significant investor interest in the growing build to rent and retirement living sectors."