Rushanara Ali says leaseholders are living under a cloud of 'anxiety, fear and insecurity'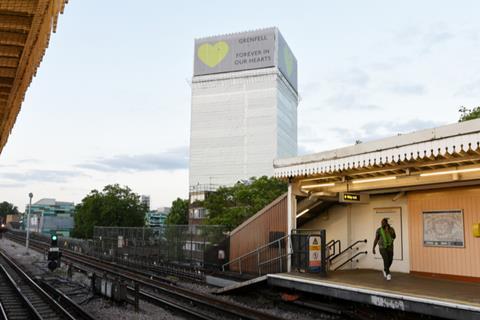 A Labour MP has accused the government of not taking tough action against owners of residential towers fitted with unsafe ACM cladding nearly two years after the Grenfell fire in which 72 residents died.
In a House of Commons debate Rushanara Ali, the MP for Bethnal Green & Bow in east London, said while the government was working to safeguard social sector buildings it was doing little to reassure those living in more than 200 privately-owned high-rise residential towers fitted with unsafe ACM cladding.
"Ministers say they expect private building owners to pay for the [remediation] work to be done, but this has been backed only by appealing to their good nature. Instead the government should make this a legal requirement," Ali said.
Passing on costs of remediation work to leaseholders in the form of a service charge was "simply unacceptable", she added, citing the case of a constituent who faced a bill of £18,500, "which is simply beyond their means".
Ali said the situation was "causing anxiety, fear and insecurity" for leaseholders who were faced with paying both for the removal of unsafe cladding and interim measures such as temporary fire wardens.
She called on the government to set out a firm plan of action, including new funding for those local authorities which stepped in to undertake remediation work on privately-owned buildings, as well as a clear set of deadlines for when works should be undertaken and completed.
"The government has completely failed to honour the Prime Minister's commitment in the wake of the Grenfell fire to keep people safe."
The MP said the government would be liable if another fatality happened as a result of a fire caused by cladding "and will have blood on its hands if it doesn't take action".
Responding for the government, housing minister Kit Malthouse admitted that while a number of developers and owners including Barratt, Mace Group, Legal & General and Peabody had stepped in he remained concerned that some leaseholders were not yet protected from remediation costs.
"We are continuing to press owners and developers of all high-rise buildings with this unsafe ACM cladding to protect these leaseholders from paying for this essential remedial work. And we are considering additional interventions so that progress can be made more swiftly," although he said he currently couldn't say what these would be.
The minister denied Ali's accusation that the government was delaying progress on sorting out privately-owned blocks, but admitted it was slower in the private sector "and we need to do something to speed it up".
Malthouse, the eighth housing minister since 2010, went on: "Be under no illusion as to the amount of time, effort and commitment that we're putting into trying to get this resolved. I can't give a specific time-frame but my desire is to get this done as quickly as possible.
"We are taking this matter extremely seriously and applying enormous resources to try and reach a resolution for all affected residents, but critically we are determined to learn the lessons of Grenfell and ensure that nothing like it can ever happen again."